Thermo Scientific™ Finnpipette™ F1 Manual Pipette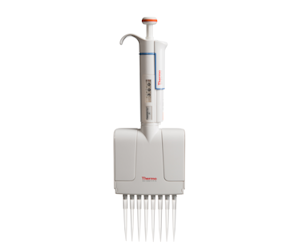 Principle: Thermo Scientific Finnpipette F1 pipettes are supplied calibrated to ISO8655 standards and warranted free from defects in material and workmanship for 5 years.
Automation: No
Approvals: Manual pipetting system that is trusted to provide accuracy and precision with enhanced comfort.
Suitability: For aspirating and dispensing of liquids between 0.5 – 10000µl
Capital equipment required: No
Description:
Enjoy the enhanced volume adjustment on Thermo Scientific™ Finnpipette™ F1 Variable Volume Pipettes, which are now silent and effortless with a textured adjustment knob for a firmer feel when setting volumes. The adjustable finger rest and lightweight design maximize comfort without sacrificing performance. The Finnpipette F1 is available in single-channel and multi-channel versions.
Key Points:
Trusted precision and accuracy
Lightweight and ergonomic
Enhanced volume adjustment
Adjustable finger rest
Please note : Any products described on this page are for Research Use Only and not intended for clinical diagnostic procedures unless otherwise stated.
Areas:
Clinical

Food & Beverage

Laboratory Equipment

Pharmaceutical

Water