SwabSURE ListeriaP - Monitors L. monocytogenes in Food Processing Environments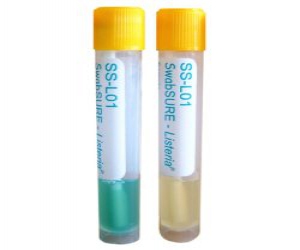 Manufacturer: Technical Service Consultants Ltd
Principle: Colour change indicates presence of phospholipase C an enzyme associated with pathogenicity.
Automation: NO
Approvals: ISO 18593:2004 compliant, validated by Campden BRI
Suitability: For use at grass roots level where swab test provides end-user with a reliable and accurate result eliminating the need of a contract laboratory.
Capital equipment required: YES - use of basic Incubator where product is incubated at 37C
Description:
SwabSURE ListeriaP is an innovative colour change Listeria testing product for environmental monitoring and food contact surfaces. The presence of pathogenic
Listeria monocytogenes
and
Listeria ivanovii
is indicated by a colour change in the media following incubation. Other commensal organisms are prevented from growing by a combination of antibiotics and inhibitory compounds.
Key Points:
Sampling swabs are coloured blue for clear identification in a food processing environment
Open matrix of the foam swab enhances recovery and release of microbial cells ensuring accurate and reliable results
Neutralising buffer inactivates QACs, phenols, peroxides and other sanitisers increasing viability of sample
False positives eliminated by introduction of chromogenic media for easy identification
Simple and quick, ready-to-use with no mixing reagents or multiple steps
Results in 24-48 hours