Thermo Scientific Nalgene Analytical Filters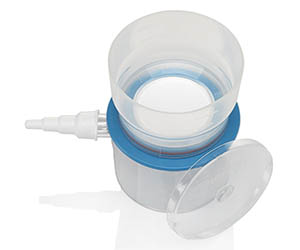 Principle: Sterile and non-sterile filtration of liquids for retention and recovery of micro-organisms
Automation: NO
Approvals: Exceeds recovery requirements set forth in ISO 7704. CN membranes manufactured for use in the bacteriological analysis of potable waters in accordance with APHA Standard Method and lab standards for equipment and materials set forth by the U.S.EPA.
Suitability: Labs requiring the recovery and numeration of specific micro-organisms from various liquids
Capital equipment required: NO
Description:
For over 50 years, we have provided precise, easy-to-use systems for the recovery of microorganisms and particles for QC testing and research.
Thermo Scientific™ Nalgene™ Analytical Filters offer innovative features for precise, easy-to-use systems for microbial analysis - a wide base for added stability, suitable for work with samples that may foam, easy access to 47mm diameter membrane and graduated chambers for quick volume checks.
Choose Nalgene Analytical filtration for maximum flow and optimised microbial recovery rate.
Key Points:
Gamma-sterilised, individually wrapped
Upper chamber snaps away from receiver for retrieval of membrane with sterile forceps
Provides excellent recovery and growth of microorganisms
Receiver is graduated from 20 to 150mL for easy reading of sample volume
Wide base is stable on the bench
0.2μm size is ideal for sterility tests
0.45μm size has black grid to facilitate colony counting
Manifolds, hardware and accessories available
Areas:
Cosmetic/Personal Care

Food & Beverage

Laboratory Equipment

Pharmaceutical

Water