Critical Infectious Disease Panels & Controls for Molecular Testing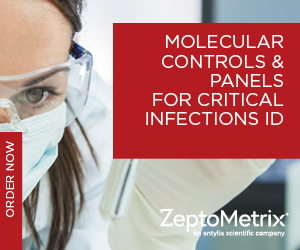 Principle: Real-Time RT-PCR technology
Automation: YES
Approvals: CE-IVD, RUO
Suitability: ZeptoMetrix External Quality Controls and Verification Panels have demonstrated utility on multiple assays
Capital equipment required: YES
Description:
Utilizing ZeptoMetrix® NATtrol™ Infectious Disease Controls on a consistent basis helps to monitor testing performance and provides additional confidence in the quality and reliability of clinical laboratory operations.
Key Points:
Refrigerated ready-to-use
Non-infectious
Whole microorganisms
Mimics a true clinical specimen.
Can be used across various molecular testing platforms and assays
Available in different formats (single or multiple analytes)
Full process controls to monitor extraction and amplification steps
Train and monitor laboratory personnel
Evaluate lot-to-lot consistency of test kits and assay reagent
Please note : Any products described on this page are for Research Use Only and not intended for clinical diagnostic procedures unless otherwise stated.
Areas:
Assay Development

Clinical