3rd October 2016 Content supplied by: Hardy Diagnostics
Xpress™ Rapid Pathogen Detection System Now AOAC PTM for Listeria!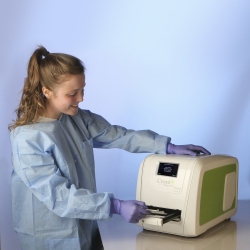 The Xpress™ Rapid Pathogen Detection system, developed by Crystal Diagnostics and distributed in North America through Hardy Diagnostics, has recently been awarded AOAC-RI Performance Tested Methods SM certification for the detection of Listeria monocytogenes on environmental surfaces. This certification is a welcome addition to a host of other AOAC certifications which include Salmonella, Shiga Toxin producing E. coli, and E. coli O157.
The Xpress™ Rapid Pathogen Detection system utilizes liquid crystals and magnetic antibody coated biospheres to detect target pathogens in food samples. In comparison to traditional PCR systems, the Xpress™ system is faster and cheaper with virtually no chance of cross contamination between samples. The time to result for initial samples is less than 29 hours, 15-20 samples per hour thereafter. It is approved as an alternative confirmation process (48 hours instead of traditional USDA confirmation of 6-7 days).
In 2016, the United States saw three major Listeria outbreaks that spanned multiple states. These outbreaks are costly to the manufacturer and harmful to the consumer but are also completely preventable through more testing. As Dr. Russell Cross, Professor TAMU and Former Administrator FSIS, said, "We do not need more food testing; we need better food testing technology." The Xpress™ is paving the way for better food testing technology by utilizing liquid crystal technology for testing rather than traditional PCR systems.
Hardy Diagnostics is the only North American distributor of the Xpress™ system. We are excited to offer this breakthrough technology in the hope of further preventing the spread of disease.
For more information on the Xpress™ Rapid Pathogen Detection System, watch the video on Hardy Diagnostics' YouTube page or visit www.hardydiagnostics.com/cdxreader.html
More information including an in-house demo is available on request: www.hardydiagnostics.com/request_sample.html
Tags:
Date Published: 3rd October 2016
Source article link: View
Related news