3rd September 2012 Content supplied by: Hardy Diagnostics
What are you Missing from your Throat Cultures?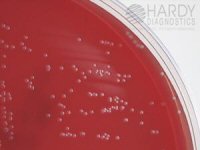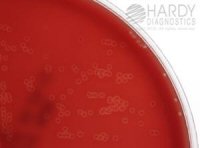 Arcanobacterium haemolyticum (ATCC® BAA-1784) colonies growing on Arcanobacterium Selective Agar (Cat. no. A134). Incubated anaerobically for 48 hours at 350 C. The photo on the left shows the colonies by reflected light. The photo on the right shows the beta hemolysis by transmitted light
Hardy Diagnostics has just released Arcanobacterium Selective Agar (also known as Berger's Agar, Cat no. A134), a novel medium for the isolation of Arcanobacterium haemolyticum, especially from respiratory specimens.
Selective agents have been added to the medium to inhibit Streptococcus pyogenes and normal oral flora without affecting the growth of Arcanobacterium haemolyticum. Also released by Hardy Diagnostics is a bi-plate, consisting of Group A Beta Strep Selective Agar and Arcanobacterium Selective Agar (Cat. no. J134) so that throat cultures can be effectively screened for both Group A Strep and Arcanobacterium simultaneously.
Daniel Berger a Research and Development Microbiologist at Hardy Diagnostics has prepared an article discussing the significance and potential under reporting of A.haemolyticum, click here to download the full text pdf from Hardy Diagnostics website.
Please note : Any products described on this page are for Research Use Only and not intended for clinical diagnostic procedures unless otherwise stated.
Tags:
Date Published: 3rd September 2012
Related news