9th May 2017 Content supplied by: Synbiosis
Walk-away System Counts Colonies on Over 300 Plates per Hour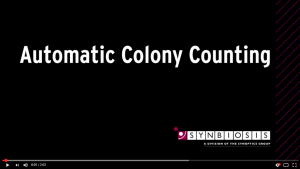 Synbiosis has entered into a new development collaboration with AAA Lab Equipment, with the aim of integrating a ProtoCOL 3 colony counting system within an Irina automated plate feeder. The integrated system will allow microbiologists to load plates and count colonies on up to 500 plates in 90 minutes, improving throughput and accuracy in QC laboratories.
Engineers at AAA Lab Equipment are working with Synbiosis to integrate the ProtoCOL 3 colony counter into their Irina automated plate feeding system. The plate feeder holds up to 500, 90mm plates in two carousels and automatically removes a plate from the carousel, reads and scans barcodes, removes the lid (if required) and will transfer the plate into an automated colony counter. Initially, AAA's technical experts are re-engineering the plate feeder's design for the ProtoCOL 3 system.
Engineers at AAA are also working to ensure the plate feeder will transfer a plate to the ProtoCOL 3, where a high-resolution CCD camera and unique LED lighting will produce images of colonies as small as 43 microns (0.043mm). The ProtoCOL 3 software will count colonies and produce accurate results which will be automatically transferred to Excel or a LIMS system and plate images will be stored in an SQL database. Additionally, AAA's software experts are programming the plate feeder to take account of the time a ProtoCOL 3 needs to count the colonies on each plate, to ensure the plate feeder's loading arm replaces the plate into a second carousel after it has been analysed so that microbiologists know which plates have been read.
Commenting on the new collaboration, Peter Krul, CEO of AAA Lab Equipment said: "We were approached by a large food microbiology testing facility in 2016 and asked if we could integrate an automated colony counter into our Irina plate feeder. Since then we have been working with the Synbiosis team for six months to re-engineer our plate feeder hardware and software for use with a ProtoCOL 3 colony counter. We know now that we can custom produce this cutting edge, walkaway technology for any food or environmental microbiology client requesting it."
To see how an integrated plate feeding and plate reading system will perform in real-time, click this link: www.youtube.com/watch?v=Ulod3r2MnU0
Please note : Any products described on this page are for Research Use Only and not intended for clinical diagnostic procedures unless otherwise stated.
Tags:
Date Published: 9th May 2017
Source article link: View
Related news