10th January 2018 Content supplied by: Roche CustomBiotech
Validation Study for Rapid Detection of Mycoplasma Contamination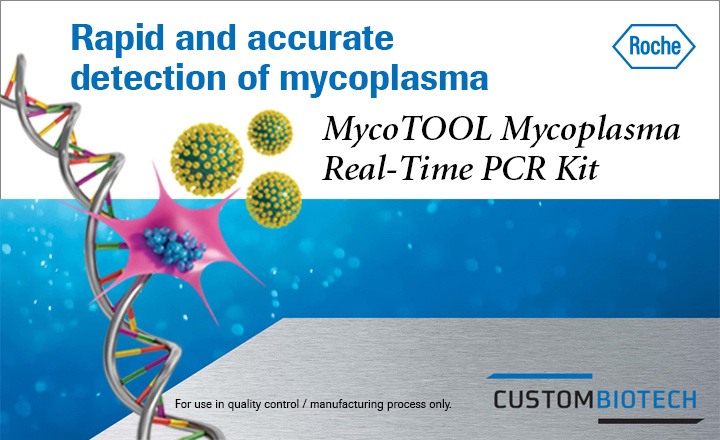 Introduction Mycoplasma contamination of biopharmaceuticals or advanced therapeutics such as cell-based therapies – due to cell culture contamination that can be introduced by multiple sources in the manufacturing process – poses a potential health risk to patients. To minimize this risk, regulatory agencies require manufacturers to conduct mycoplasma testing at various production stages, as well as prior to final product release, to ensure the absence of mycoplasma contamination.
Release Testing Requirements Traditionally, the use of culture methods for detection of mycoplasma has been accepted by international regulatory agencies. With advancements in technology and therapeutics, as well as awareness of the shortcomings of traditional methods, many manufacturers have adopted a rapid microbiological method for mycoplasma detection. The United States, European, and Japanese pharmacopeias list nucleic acid tests (NAT) as a mycoplasma testing option when properly validated. European Pharmacopeia (EP) chapter 2.6.7 provides specific mycoplasma NAT validation guidelines.
Validation Case Study: MycoTOOL Mycoplasma Real-Time PCR Kit The Roche CustomBiotech MycoTOOL Mycoplasma Real-Time PCR Kit uses highly specific TaqMan® probes to detect the absence or presence of a broad range of cultivable and non-cultivable mycoplasma species in accordance with international guidelines in less than 5 hours, using either a manual or automated protocol. For both manual and automated sample preparation protocols, single-tube preparations are used, decreasing the possibility of contamination or loss during the procedure.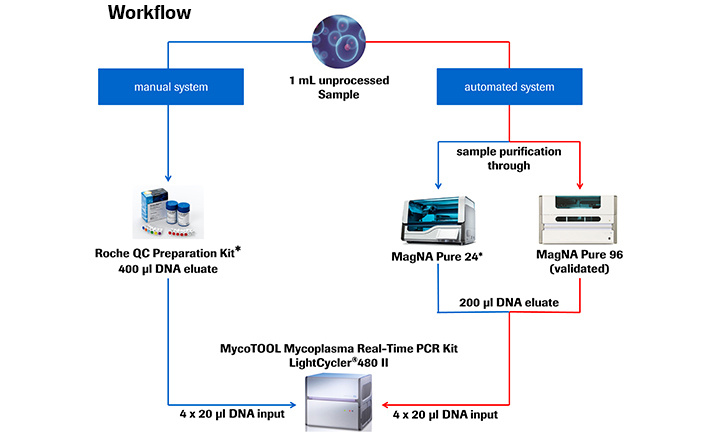 A validation study was conducted by Roche Pharma (Penzberg, Germany) using the MycoTOOL Mycoplasma Real-Time PCR Kit for detection of mycoplasma contamination during CHO manufacturing processes. The study was designed to assess criteria as mentioned in the EP chapter 2.6.7 and ICH-Q2 R1 7 guidelines looking at limit of detection, specificity, robustness, precision, cross-contamination and comparability.
Conclusion The study demonstrated compliance of the MycoTOOL Mycoplasma Real-Time PCR Kit with the EP2.6.7 NAT validation guideline, showing that the assay is sensitive, specific, robust, precise and comparable to compendial methods, meeting the stringent requirements for regulated CHO manufacturing processes.
Like Roche Pharma (Penzberg, Germany), many manufacturers of biopharmaceuticals and advanced therapeutics are moving towards rapid NAT methods as an inbound quality-control step for externally supplied raw materials, an early-warning approach to reduce further costly manufacturing of contaminated product, or as an effective lot release test. We believe this trend will continue in the future.
To learn more about Roche CustomBiotech solutions, visit www.custombiotech.roche.com.
The MycoTOOL Mycoplasma Real-Time PCR Kit is for use in quality control/ manufacturing processes only. MYCOTOOL is a trademark of Roche. Other brands or product names are trademarks of their respective holders.
Tags:
Date Published: 10th January 2018
Source article link: View