25th January 2022 Content supplied by: Eurofins GeneScan Technologies GmbH
Two Bugs, One Broth -Detecting Salmonella & STEC in One Co-Enrichment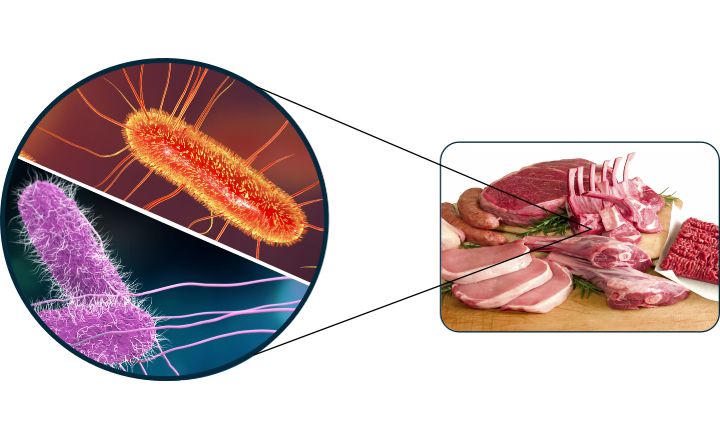 Salmonella and Shiga-toxin producing E. coli (STEC) are two of the most important types of bacteria in food safety and testing. A short turnaround time is crucial for the food testing industry and reducing testing time without impacting on the sensitivity and accuracy of the methods is essential. In an effort to provide laboratories with a faster and efficient workflow Eurofins GeneScan Technologies has developed this effortless co-enrichment protocol for Salmonella and STEC.
The co-enrichment protocol utilises the STEC solution enrichment setup and its ability to enrich Salmonella as well as STEC was assessed taking several relevant factors into account.
An asymmetric co-enrichment study with varying levels of STEC in all sample types showed that low levels of Salmonella were reliably detected even in samples with high levels of STEC, indicating that the competition did not adversely affect bacterial growth. The detection was possible for enrichment times between 10 and 24 hours enabling the utmost flexibility for laboratories.
The validation also contained a matrix study. Five matrix types (ground beef, beef trim, beef carcass cloth, mixed leafy greens and romaine lettuce) were tested, all samples were artificially contaminated with heat stressed Salmonella cells with varying stress protocol and culturally confirmed in addition to the real-time PCR results. The results showed that all tested Salmonella strains grew reliably under the co-enrichment conditions.
The results of the LOD study showed, that all tested Salmonella strains grow to similar levels as with the already certified enrichment conditions for BACGene Salmonella spp. kit using BPW at
37 °C ± 1 °C or 41.5 °C ± 1 °C (depending on the matrix type).
Overall the validation study showed that the BACGene Co-enrichment protocol is a reliable enrichment for both Salmonella and STEC and a more efficient workflow in terms of time, space and cost of analysis by enabling the enrichment of two of the most relevant food related pathogens in one enrichment sample.
This approach is well in alignment with recent initiatives seen from expert groups suggesting a simultaneous detection of STEC and Salmonella mainly in meat.
Overview of the relevant BACGene Kits:
BACGene Salmonella spp.
Cat. no. 5123223011 (96 reactions)
BACGene STEC Screen
Cat. no. 5123223001 (96 reactions)
BACGene E. coli O157:H7
Cat. no. 5123222701 (96 reactions)
BACGene STEC SEROtype1
Cat. no. 5123223101 (96 reactions)
BACGene STEC SEROtype2
Cat. no. 5123223201 (96 reactions)
Benefits of the co-enrichment:
Cost reduction
Reduced hands-on time
Less lab space and consumable required
Enrichment of two of the most important bacteria in food testing in one efficient step
Tags:
Date Published: 25th January 2022