16th August 2022 Content supplied by: FireGene
The Benefits of Lyophilized Reagents and Assay Kits (and Monkeypox Virus RT-PCR Kit)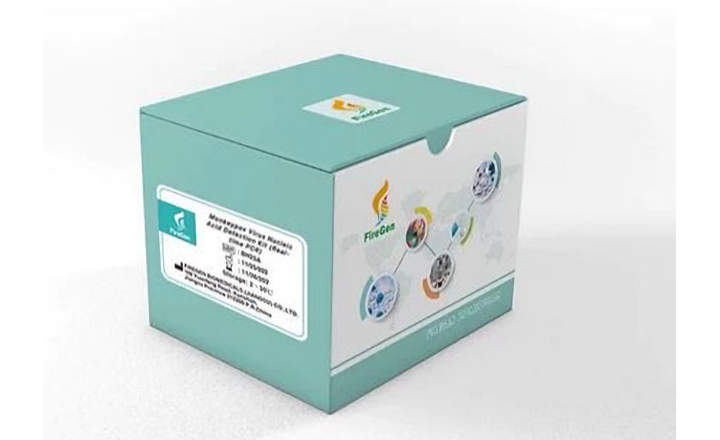 What is lyophilization?
Lyophilization in biotechnology is the process of freeze-drying, removing moisture content from a product at low temperature until it is no longer biologically or chemically active. Microbes, proteins, pharmaceuticals, plasma, and tissues are just a few examples of the many heat-sensitive things that can be preserved with the freeze-drying technique. Lyophilization maximizes the stability and shelf life of the product while retaining its chemical or biological function without the need for cold chain transportation and storage.
The challenges of transportation and long-term storage
In the biotechnology and pharmaceutical industries, samples that need to be stored for an extended period of time are sometimes quite labile. For proteins such as enzymes to perform their biological function, maintaining the integrity of macromolecular structures is necessary. The most common solution is cold chain transportation and storage. However, the cost for cold chain transportation and storage can skyrocket when it comes to international transportation, long-term storage, or remote testing. For instance, enzymes and reagents in a variety of assay kits are frequently freeze-dried to increase shelf life and lower the cost of transportation and storage.
Key benefits of lyophilization in molecular biology reagents and kits
1. Long term stability at room temperature, cold chain independent
Lyophilization offers a simple and secure approach for long-term storage of reagents and assay kits while maintaining their activity. Samples that have been freeze-dried are less in volume and weight, which helps to reduce shipping costs without the need for dry ice.
The cost advantages with lyophilized kits and assays are especially crucial to developing countries with limited budgets and storage equipment. Often, the requirements for cold chain transport and storage is higher for developing countries due to long transportation distances and unknown import clearance time. Lyophilization enables developing countries to access reliable molecular biology reagents and kits without cold chain transportation.
2. Assay in one tube
A pre-designed lyophilized PCR kit combines all individual components and assembles the precise amount of multiple PCR reagents for one reaction to a PCR tube. When compared to the assembly of a traditional PCR kit, a lyophilized PCR kit reduces the turnaround time and ensures the batch-to-batch consistency because there is no need to thaw and there are fewer pipetting steps involved. Lyophilized reagents and kits improve a laboratory's throughput, reduce labor, and require fewer consumables.
Lyophilized Monkeypox Virus Nucleic Acid Detection Kit
In response to the 2022 monkeypox outbreak, we have developed our Lyophilized Monkeypox Virus Real-Time PCR Kit and obtained CE-IVD approval. The lyophilized kit includes a set of specific primers and probes pre-mixed in the Master Mix targeting two specific gene regions of Monkeypox Virus (MPV). The first gene is the orthopoxvirus DNA polymerase gene (E9L) for the detection of Eurasian orthopoxviruses other than variola viruses, and the second one is a viral envelope protein gene (B6R), which specifically detects monkeypox virus (MPXV). This Lyophilized Monkeypox Virus Real-Time PCR Kit is specifically designed for easy operation without the need for cold chain transportation and storage.
The FireGene's Lyophilized Monkeypox Virus Real-Time PCR Kit is approved for diagnostics purposes in countries that accept CE-marked IVD tests:
Austria, Belgium, Bulgaria, Croatia, Republic of Cyprus, Czech Republic, Denmark, Estonia, Finland, France, Germany, Greece, Hungary, Ireland, Italy, Latvia, Lithuania, Luxembourg, Malta, Netherlands, Poland, Portugal, Romania, Slovakia, Slovenia, Spain and Sweden.
Note: The kit is available for diagnostic use in all countries that accept the EU CE-IVD Mark. This MPV RT-PCR Kit is still available for research use in the U.S. and other countries.
The MPV Nucleic Acid Detection Kit is ready to ship in small and bulk quantities to meet the immediate demand for monkeypox virus testing. This lyophilized MPV RT-PCR Kit can be shipped and stored at room temperature. With the pre-assembled one-step mix bead in the PCR tube, the assay will be ready by simply adding reconstitution buffer to the PCR tube. This kit is also compatible with most RT-PCR instruments (refer to product page for the full list of supported instruments). We are committed to supplying the Monkeypox Virus RT-PCR Detection Kit at an affordable price to help all countries to contain the spread of Monkeypox Virus.
Click on the Request Information button below for more.
Please note : Any products described on this page are for Research Use Only and not intended for clinical diagnostic procedures unless otherwise stated.
Tags:
Date Published: 16th August 2022
Source article link: View