18th October 2016 Content supplied by: Mettler Toledo Rainin, LLC
Sterile DNase/RNase-free Filter Tips Helps Avoid Contamination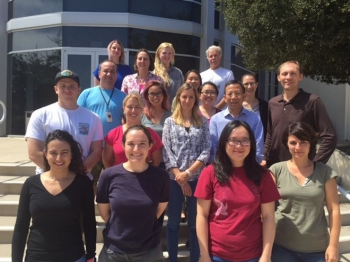 Researchers at the Infectious and Inflammatory Disease Center, Sanford Burnham Prebys Medical Discovery Institute in La Jolla, USA, rely on Rainin Pipet-Lite™ XLS pipettes and filter tips for studies to identify disease-driving genes and pathways in autoimmune and infectious diseases, and cancer.
Antje Rhode-Kurnow, senior laboratory manager and scientific specialist in the center's Laboratory of Molecular Immunology, Carl Ware Lab, explained: "We do a lot of virus work, particularly experiments involving DNA and RNA studies, and it is essential to avoid any potential for contamination. Everything we use in our BSL-2 tissue culture room must be sterile, and one of the main reasons for choosing Rainin is that it offers sterile DNase/RNase-free filter tips for its pipettes."
"We have a mix of manual and electronic, single and multichannel pipettes. Everybody loves the Pipet-Lite XLS pipettes because they are light weight and it is very easy to change the volume settings. The multichannel pipettes are ideal for ELISAs, and the electronic single channel pipettes are really popular for RT-PCR.
Rainin's customer service is fantastic too; once a year, the company's technicians visit our laboratory and calibrate our pipettes on site. If a pipette needs attention between these visits, we simply contact the service center and it is collected, repaired and returned to us very quickly. It's a great system and, together with the company's trade-in scheme, is another good reason to stay with Rainin. I'm a very happy customer."
Visit www.mt.com/rainin
Tags:
Date Published: 18th October 2016
Source article link: View