12th June 2017 Content supplied by: SpeeDx
SpeeDx and Cepheid Announce Partnership on European Distribution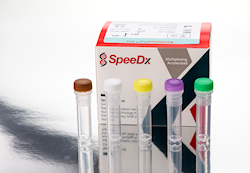 SpeeDx Pty, Ltd. have announced an agreement with Cepheid for distribution of its PlexPCRTM and ResistancePlusTM molecular diagnostic products in key markets throughout Europe. The agreement, covering Germany, France, Italy, and the UK, will increase coverage for the market-leading ResistancePlus MG test, the first CE-IVD test for Mycoplasma genitalium to combine detection with testing for azithromycin resistance.
The timing of the agreement coincides with recent guideline changes across Europe recommending M. genitalium resistance screening in the management of non-gonococcal urethritis.1 The inclusion of a macrolide resistance test when detecting M. genitalium provides clinicians with much needed information to guide antibiotic treatment. Resistance to frontline antibiotic treatment is increasing and has been observed in up to 50 % of M. genitalium positive patients in recent studies.2
"This partnership is a true win-win," said Colin Denver, CEO of SpeeDx. "We gain better access to these important European markets and Cepheid can bring its customers a comprehensive test for M. genitalium and azithromycin resistance."
"SpeeDx offers a unique approach to simultaneous detection of pathogens and drug resistance directly from clinical specimens, consistent with Cepheid's approach to detecting tuberculosis," said David H. Persing, MD, Ph.D., Cepheid's Chief Medical and Technology Officer. "This technology could potentially be applied in multiple settings in which actionable treatment information is needed quickly."
References: 1. Horner PJ et al. 2016 European guideline on the management of non-gonococcal urethritis. 2. Unemo, M. & Jensen, J.S. 'Antimicrobial-resistant sexually transmitted infections: gonorrhoea and Mycoplasma genitalium'. 2016. Nat. Rev. Urol..268. Published online 10 Jan 2017. doi:10.1038/nrurol
Tags:
Date Published: 12th June 2017