17th April 2018 Content supplied by:
Special Focus - What's on Show at ECCMID 2018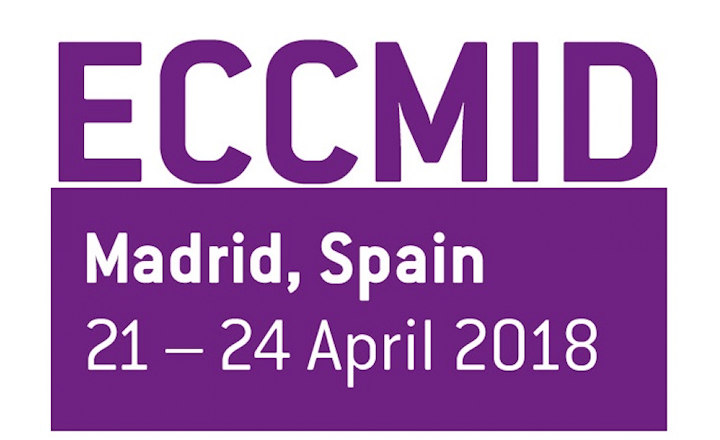 Whether you are attending ECCMID this year or just want to keep up to date with the latest products for the clinical microbiology laboratory, you can quickly and easily see what's going to be on show in Madrid, Spain, from 21 - 24 April 2018.
 

bioMérieux and DIAGNOSTICS IS POWER at ECCMID 2018

bioMérieux will be showcasing their extensive offer in Antimicrobial Stewardship (AMS). Experience how the power of diagnostics can help optimize antibiotic therapy – initiation, optimization and discontinuation. Booth #3.

 

APAS Independence - The First Automated Culture Plate Reader

APAS Independence is the first automated culture plate reader. A breakthrough in AI technology, it can read 200 plates per hour, provides accurate reproducible results and removes the negative or non significant plates out of your workflow. Booth #1A.

 

Fast, Accurate QC Microorganisms from Microbiologics

Microbiologics offers over 900 strains in a variety of formats for assay and instrumentation validation/verification, routine QC, proficiency testing and more. Visit booth 120 to learn how we can simplify testing in your lab.

 

Sigma MM™ Molecular Medium - Specimen to Safe DNA/RNA in a Single Step!

MWE will be launching Sigma MM™, a powerful reagent based liquid medium that renders pathogenic material safe within seconds and ready for molecular analysis.Booth #108.

 

BD Synapsys™ Microbiology Informatics Solution Announced at ECCMID

BD Synapsys™ Microbiology Informatics Solution which provides laboratories with secure connectivity across instruments and locations will be amongst the new offerings shown at BD ECCMID booth #13.

 

Bruker Introduces Bologna Workflow for Fast, Cost Effective ID and AMR Positive Blood Cultures

See Microbial ID of 2,700 Species from positive blood cultures in 60-90 minutes, combined with functional testing of Cephalosporin- and Carbapenem-Resistance on MALDI Biotyper®, at Bruker ECCMID stand.

 

QIAstat-Dx® - Next Generation Platform for Syndromic Insights

QIAstat-Dx (formerly StatDx DiagCORE®) provides a one-step, fully integrated molecular analysis of common syndromes in infections, oncology and other disease areas, the technology is cost-effective compared with its competitor are particularly efficacious in usually hard to test samples. Booth #36.

 

Automating the Diagnosis of Urogenital Mycoplasma Infections

ELITech's new EM Smart-Reader brings automation to urogenital mycoplasma (Mycofast®), fungi and parasites diagnosis answering the modern needs of laboratories in terms of standardization and Quality Control management.

 

CHROMagar, Pioneer in Chromogenic Media, will be Present at ECCMID 2018

CHROMagar offers the widest range of chromogenic media, all available in dehydrated format, including a family specially designed for the detection of drug and multi-drug resistant bacteria. Come visit us at ECCMID 2018 - Booth #152 and find out about our latest products.

 

Vivalytic from Bosch – Universal, Intuitive, Fast

Vivalytic is a universal platform for molecular diagnostics that will allow you to test a wide variety of samples and to perform fully automated analytical procedures. Visit us at booth #30. .

 

VirClia® Monotest and the Automated Solutions Adapted to You

Vircell specialises in diagnostic solutions for human infectious diseases. Come to booth #18A to learn more about our products and the latest additions to VirClia® catalogue. We will be doing demos on the VirClia® systems, don't miss out!

 

Check-Points Introduces the CE-IVD BD MAX™ Check-Points CPO Assay

Early 2018 Check-Points has obtained CE-IVD registration for its BD MAX™ Check-Points CPO assay for the fully automated BD MAX™ System, detecting the five worldwide most prevalent carbapenemase genes in less than 2.5 hours. Visit us at booth #20B.

 

QIAGEN - See Disease Differently – from Sample to Insight

Discover solutions for infectious disease diagnostics and research at ECCMID 2018, join us at the QIAGEN booth #36 for expert talks every day! Space is limited so reserve your spot now.
The 2018 ECCMID will be held in Madrid, Spain, from 21 - 24 April 2018.
Next year's ECCMID will be in Amsterdam, Netherlands on 13 – 16 April 2019.
Please note : Any products described on this page are for Research Use Only and not intended for clinical diagnostic procedures unless otherwise stated.
Date Published: 17th April 2018