8th July 2019 Content supplied by: Solus Scientific Solutions Ltd.
Solus One Offers a Palatable Alternative to BAM Pathogen Testing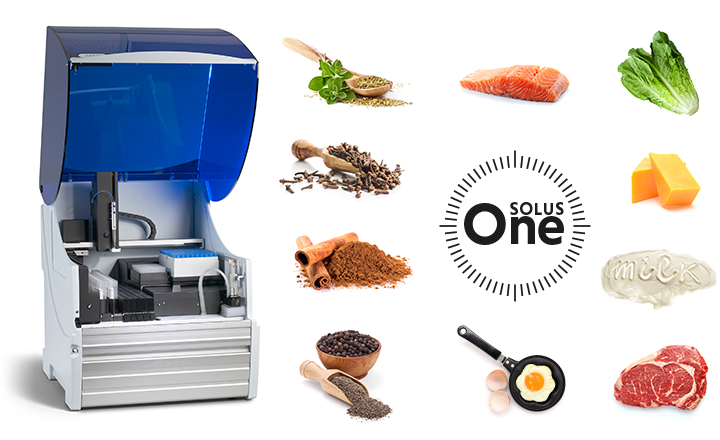 Spices, herbs and flavourings are some of the trickiest matrices to test for pathogens due to their natural antimicrobial properties, potentially hiding the presence of contaminating organisms during alternative testing protocols. The FDA's Bacterial Analytical Manual (BAM) Chapter 5 describes how to test for Salmonella in these matrices by diluting the samples beyond the toxic threshold. This requires large volumes of enrichment media and can therefore be challenging to handle as well as costly.
Solus Scientific Solutions have developed a highly sensitive and specific test for Salmonella species in various matrices, with an application to extend the scope of our AOAC certification to include herbs, spices and flavourings currently in the pipeline.   
Why did we Target Flavouring Ingredients?
Look in any kitchen cupboard or pantry anywhere around the world and you are likely to find at least one kind of herb, spice or flavouring mix (Ranch seasoning, anyone?)
With the global market for spices, herbs and seasonings predicted to break the US$6.5 billion per year mark soon (www.intracen.org/itc/market-insider/spices/) it is vital that the food industry community work together to keep these key ingredients safe, not only for large food manufacturer's but also for the wannabe Gordon Ramsey's and Clare Smyth's (look her up, she's impressive!) in their home kitchens.
Keeping Things Simple
Testing food for pathogens can be a complicated process so we wanted to keep our testing system as simple as we could. By optimising the growth media and supplement, the antibodies and the indicator reagents, we have been able to develop a Salmonella detection test that gives results equivalent to BAM methods but in a much more time and cost effective method. Click on the image above to find out more about each matrix that you can test using the simple Solus One Salmonella detection system.
IAFP
Solus Scientific Solutions Ltd. are very excited to be going to the IAFP annual meeting in Louisville, Kentucky, 21-24th July 2019. We can't wait to showcase our AOAC certified Solus One Salmonella assay, and hopefully by the time we get to the show we'll have been granted an AOAC certification extension to scope to include herbs, spices and flavourings, making us an industry leader.
Also in the Solus One range of single enrichment, rapid result tests we have Solus One Listeria, which is AOAC certified for detection of Listeria species from environmental surfaces, and Solus One E. coli O157 which can provide results in under 18 hours.
Our fantastic sales team will be available at IAFP to discuss all your testing requirements and will be happy to talk you through the many benefits of the Solus Pathogen Detection System.
So why not visit us at booth #545 and find out more about our full range of food pathogen detection kits?

Tags:
Date Published: 8th July 2019
Source article link: View