Smaller, Lighter Plastic Bottle Option for BD BACTEC™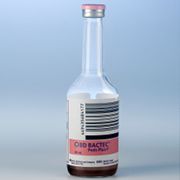 The fourth media culture bottle available in plastic for the BD BACTEC™ blood culture platform has received FDA clearance. The glass bottle version will continue to be available.
The new BD BACTEC™ PEDS Plus™/F plastic blood culture bottle is designed for customer convenience for the qualitative culture and recovery of aerobic microorganisms from pediatric and non-pediatric blood specimens less than 5 mL in volume. This latest addition to BD's family of sepsis and healthcare associated infection solutions represents BD's continued commitment to meeting customer needs and enhancing laboratory efficiencies. The BD plastic bottle offering is smaller and lighter, allowing for easier and safer handling during collection, transport and disposal.
The BD BACTEC blood culture platform, which includes the BD BACTEC™ blood culture instrument and resin media blood culture bottles, has been shown to improve bacterial recovery, facilitating changes in antibiotic treatment that facilitate antibiotic stewardship.2 For more information, please visit: bd.com/ds/
Tags:
Date Published: 19th April 2016
Source article link: BD Diagnostic Systems