13th April 2015 Content supplied by: Eppendorf AG
Small, Flexible and Reliable Heat Sealer Range from Eppendorf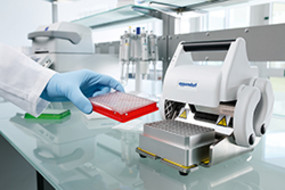 By launching the new HeatSealer Family Eppendorf offers now two new devices for reliable sealing of different plate formats. To match various requirements, there is a choice between a small and extremely user-friendly device, HeatSealer S100, and a slightly bigger version, HeatSealer S200, with flexible programmable sealing parameters. Both models allow for easy, reproducible and effective sealing of plates, thereby efficiently preventing evaporation and contamination. Thanks to a selection of adapters the standard plate formats can still be used. Whether hermetic sealing of multiwell plates or effective evaporation protection for low-profile PCR plates is required, the Eppendorf HeatSealer is always the right choice. An integrated thermostat prevents overheating while enabling reliable and reproducible sealing of the plate. The press-on mechanism was improved and makes handling even more simple. Furthermore, the HeatSealer S200 features different sealing temperatures and times, selectable depending on requirements, plates and sealing option. "A reliable assay result can only be achieved with plates that are reproducibly and tightly sealed. This also applies to the storage of samples. Especially for long-term storage, tight sealing is crucial for save storage of your sample until you need it again!" says Dr. Kay Körner, Senior Global Product Manager PCR with Eppendorf.
For more information go to: www.eppendorf.com
Please note : Any products described on this page are for Research Use Only and not intended for clinical diagnostic procedures unless otherwise stated.
Tags:
Date Published: 13th April 2015
Source article link: View