13th April 2017 Content supplied by: Veolia Water Technologies
Scaleable and Versatile Range of Laboratory Water Purifiers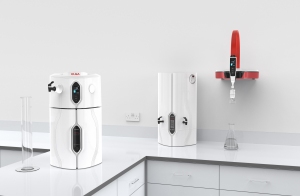 Veolia Water Technologies' innovative PURELAB® Chorus range of laboratory water purifiers provides a scaleable and versatile solution to all your laboratory water requirements. Stylish, compact and, above all, high performing; the Chorus can be configured with state-of-the-art technologies to deliver the water quality that you need - where you need it.
The latest addition to the Chorus range of product includes PURELAB® Chorus 1 Complete and PURELAB® Chorus 2.
Tap-to-Type I The new PURELAB® Chorus 1 Complete provides 18.2MΩ.cm ultrapure water (Type I), at up to 20 litres an hour direct from a potable water supply. With its simple and ergonomic design and ease-of-use, water can be dispensed directly from the system or from a choice of Halo Dispensers, this means you can add multiple dispense points without having to pay for additional systems.
Guaranteed Quality of Type II For analytical and life science applications, it's the new PURELAB® Chorus 2 for 15MΩ.cm water (Type II) with RO, plus, either DI or EDI. Four variants now exist; 10 and 20 litre an hour, with and without boost pumps – to help increase the pressure, if required. PURELAB Chorus includes a patented, fully recirculating, EDI technology, which is the only system on the market that is able to fully recirculate to maintain >15 MΩ.cm to ensure that there is no deterioration in purified water quality over time.
The PURELAB® Chorus is a single complete solution for the laboratory. Highly flexible, it allows you to customise your purification system to suit your specific research, space and budget needs. The modular PURELAB® Chorus units can be configured in stackable, bench top, wall mounted or under bench versions to fit any laboratory. And the Halo dispense unit can be located at up to four metres from the purification unit even if it's in another lab. If your needs change; now, or in the future, the PURELAB® Chorus is so adaptable that it can grow as your laboratory expands, so you are no longer restricted to one solution!
Date Published: 13th April 2017
Source article link: View