16th May 2017 Content supplied by: Romer Labs Diagnostic GmbH
Romer Labs Launches AgraQuant® Aflatoxin M1 High Sensitivity ELISA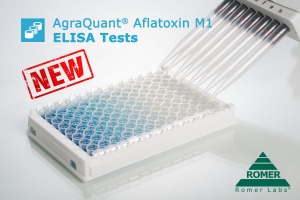 The new Romer Labs AgraQuant® Aflatoxin M1 ELISA is now more sensitive and accurate than ever before, allowing detection not only to meet but to exceed the requirements of all existing regulations.
"In these times of increased consumer demand for safe food products, Romer Labs is proud to launch the most sensitive ELISA test kit for Aflatoxin M1 on the market. With the addition of AgraQuant® Aflatoxin M1 High Sensitivity to our extensive range of ELISA test kits, we are providing our customers with the confidence to monitor and manage levels of Aflatoxin M1 in their raw materials and finished products that not only meet strict regulatory requirements, but comfortably exceed them." adds Philipp Gruber, Product Manager Mycotoxins for Romer Labs.
The AgraQuant® Aflatoxin M1 tests are ready to use ELISA kits for lab testing, validated for a wide range of milk commodities such as raw milk, fresh milk, UHT milk and several milk powders (full fat, low fat, skim, infant).
"Certain ELISA test methods carry the risk of reporting inaccurate results due to pipetting and cross contamination errors. The new AgraQuant® Aflatoxin M1 High Sensitivity ELISA kit has a unified pipetting volume of 100 µl, and does not require an agitation step, thereby directly removing two major sources of potential error." explains Dr. Kurt Brunner, R&D Director at Romer Labs.
For more information about how AgraQuant® Aflatoxin M1 High Sensitivity can benefit your business please visit www.romerlabs.com or contact your local Romer Labs representative today.
Tags:
Date Published: 16th May 2017
Source article link: View