10th July 2009 Content supplied by:
RIDA®CHECK - Innovative Rapid Swab Test for Hygiene Monitoring of Surfaces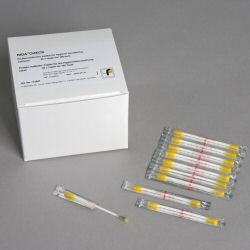 As micro-organisms are present throughout the environment it is essential that after surfaces have been cleaned, the effectiveness of the cleaning process is checked. Airborne bacteria are especially able to re-contaminate disinfected surfaces within a short time. Residues of foods that remain on utensils, equipment, chopping boards or parts of production machines potentially could provide an environment for the development and growth of these micro-organisms.
To complement existing products for cleansing and hygiene control monitoring R-Biopharm AG (Darmstadt, Germany) has developed a new rapid test system for easy, fast and economic recording of the efficacy of surface cleaning procedures.
RIDA®CHECK´ protein detection swabs are used without any additional reading equipment and are capable of detecting low amounts of protein residues on any surfaces within a few seconds. RIDA®CHECK is able to indicate any invisible film of contamination on any surface which would otherwise appear to be ' visually clean´ and not detectable by other techniques.
The RIDA®CHECK test is extremely easy to use: open the package and swab the surface with the indicator which is ready to use and pre-prepared with the test reaction liquid. If the testing surface is highly contaminated with any proteins, the yellow coloured cotton tip of the indicator swab will change to a dark green colour within a few seconds. If there is only slight contamination a light green colour will be apparent after just a couple of minutes. If the swab remains yellow after this time it indicates the surface is absolutely clean and cleaning procedures have been successful.
RIDA®CHECK can be used to detect proteins contained in any food remaining on cleaned surfaces and therefore confirms the presence of any residual invisible contamination. By comparing results and corrective actions the test can help to re-train cleaning staff and avoid contamination of subsequent production batches. This will lead to better consumer safety and also help to minimise the producer´s risk of a product recall with all the financial consequences and loss of brand-image that entails.
Date Published: 10th July 2009