11th May 2018 Content supplied by: Promicol B.V.
Rapid Sterility Testing of Finished Product with Promicol's ATP Method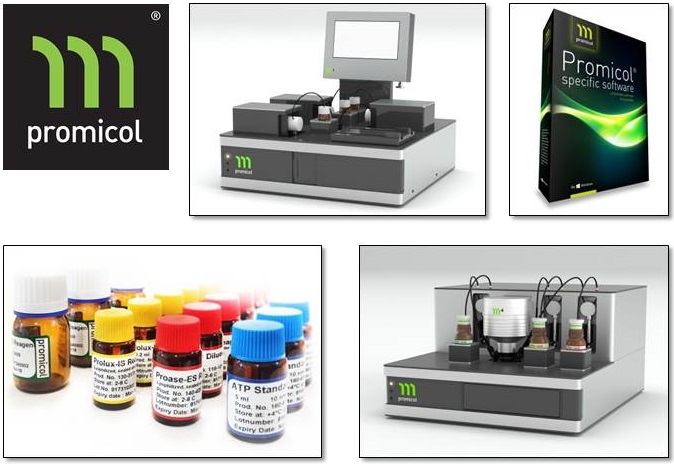 The Promicol system provides a rapid and reliable method for testing microbial ATP content in a wide range of beverages like dairy, soya and cereal based drinks, fruit and vegetable juices, smoothies, flavored teas, sparkling and non-sparkling soft drinks, alcoholic beverages as well as coconut water for example.
It is currently used by many international companies to routinely release finished products. The result of the method is given after a short pre-incubation time which is necessary to enrich the contaminating microorganisms in the product. While producers still need to wait for the results of traditional microbiology the Promicol system quickly provides the results and a decision about product release can be taken. In this way costs as well as 'time-to-market' are reduced significantly which enabling the producer to keep and improve market position.
The Promicol reagents are specially developed to cope with different conditions in a wide range of products to ensure highest sensitivity of the method. Despite several standard applications a variety of specialized customer focused solutions for rapid microbial testing of beverages are available. These tailored solutions are a key feature of the unique value added approach of Promicol to our customers. This assures high reliability in determining low levels of microbial contamination in finished products where the 'one size fits all' solution will not suffice and the development of 'tailored' assays is imperative.
The test procedures are simple, do not require any sample preparation and are very easy to use. The Promicol system can process and automatically analyze the data from approximately 100 samples at once, offering significant reductions in labor costs. Promicol provides different instruments for customers with low, medium or high sample throughput. Additionally, tailored robotic systems can be offered ensuring traceability as well as secured analysis of the measurement results.
Tags:
Date Published: 11th May 2018
Source article link: View
Related news