Quick, Accurate Sample Dilution EVERY Time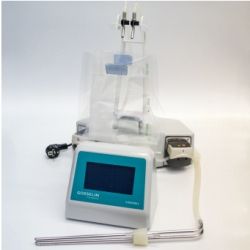 The Gosselin S-Diluter -1 is an automated food sample diluter suitable for the analysis of a range of sample sizes from 50 mL to 400 mL. The Diluter's design helps to provide quick and accurate dilution of many sample types including food, agricultural, chemical, and cosmetic samples.
S-Diluter -1 increases your laboratory's productivity, helps to secure dilution operations and reduces the risk of contamination.
Includes a removable bag holder
Intuitive software with pictograms
Dual pump mode to reduce dilution time with High precision Watson Marlow pumps
Recordable dilution parameters
Weighting accuracy: ≤1% from 5 g
Dilution accuracy <1%
Distribution speed: 910 mL/mn
Download the product flyer HERE
Watch the video: Beginning-to-end Solutions for Microbiology Food Testing from Corning
Tags:
Date Published: 1st August 2016
Source article link: Corning Life Sciences