11th June 2012 Content supplied by:
Pinch Dilutor: Affordable and Simple Automated Gravimetric Dilutions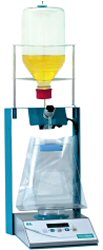 IUL's new bottle accessory for the Pinch Dilutor opens the doors to extremely economic automated gravimetric dilutions. Unique, simple and productive, the device will bring dilution automation within the reach of every lab.
Both a remarkably simple workflow and a small footprint make this device the preferred solution to automate initial sample dilutions. The Pinch Dilutor will accurately and silently dilute samples within seconds.
The new bottle holder accessory enables the device to drive diluents both from ready to use media bags and bottles.
Meet IUL's product range in:
San Francisco June 17-19th - ASM 2012: Booth # 931
Frankfurt June 18-22nd - ACHEMA 2012: 4.1 L21
Tags:
Date Published: 11th June 2012