3rd October 2016 Content supplied by: SMi Group
Microbiology Conference Covers Risk Assessments in Spore Excursions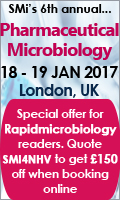 SMi Group's 6th Annual Pharmaceutical Microbiology Conference will be returning to the Holiday Inn, Kensington Forum, London, UK on 18 – 19 January 2017. The event will gather leading microbiology experts to discuss hot industry topics such as contamination and endotoxins, quality assurance and control, environmental monitoring, new mechanisms of detection and much more.
An exclusive presention on day 1 will be given by Jim Polarine, Senior Technical Service Manager, STERIS Corporation: 'Risk assessments in fungal spore and bacterial spore excursions.' Jim Polarine will discuss risk assessments conducted on fungal spore and bacterial spore contamination in cleanrooms, current examples of excursion investigations, the latest methods in conducting risk based investigations and risk maps and much more.
Furthermore, Alan Baines, Regional Head of Sales, Asia-Pacific from Lonza Bioscience Solutions will be presenting his case study: effective use of data from the bacterial endotoxins test. Alan will focus on topics such as: managing the flow of data, data integrity and how to simplify OOS and OOT investigations using trend analysis.
To see the full event information please visit: www.pharma-microbiology.com/rmi or contact Matthew Apps +44 (0) 20 7827 6093 or email mapps@smi-online.co.uk.
Rapidmicrobiology visitors can get £150 discount off when booking on-line just enter the code SMI4NHV.
Other expert speakers in the line up for 2017 include 2 EU regulatory authority speakers:
Michael Whaley, Senior Pharmacopoeial Scientist, MHRA
Ingo Spreitzer, Deputy Head Section Microbial Safety, Paul Ehrlich Institut
New for 2017:
Chris Day, Manager, Microbiology, Bristol-Myers Squibb
Brandye Michaels, Group Leader/Senior Principal Scientist Analytical R&D, Microbiology, Pfizer
Pratixa Patel, Microbiology Director, GSK
Randall Thompson, Principal Scientist, Shire
Benoit Ramond, Senior Microbiology Expert, Sanofi
There are sponsorship opportunities available for this conference, please contact Alia Malick on +44 (0) 20 7827 6168 or email: amalick@smi-online.co.uk
Date Published: 3rd October 2016
Source article link: View