4th July 2017 Content supplied by: Solus Scientific Solutions Ltd.
Pathogen Testing Systems Exclusively for Food Safety Excellence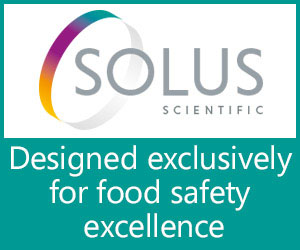 Solus Pathogen Testing Systems offer food testing laboratories a highly efficient method for the detection of Salmonella, Listeria and E. coli O157 in food and environmental samples.
Each system comprises a specifically designed immunoassay kit, dedicated selective enrichment media and automated liquid handling. Our pathogen testing systems are robust, reliable and validated by external independent laboratories to AFNOR 16140 and approved by the AOAC Performance Tested Method program.
Visit us at booth 909 to learn more about the Solus System Benefits:
Highly efficient when automated, significantly reducing technician time
High sample throughput can be achieved with a single machine
Excellent sample traceability when using the on-board bar-code facility
Validation in external, independent laboratories demonstrates high levels of sensitivity and specificity.
Detection is 1 CFU per 25g of food product or swab prior to enrichment
Results available in: 36 hours (Salmonella) 44 hours (Listeria) 18 hours (E.coli O157)
For more information or to request an appointment, please contact:
Ray Wakefield, Telephone: +44 (0) 01623 429701 Web www.solusscientific.com Booth number – 909
Tags:
Date Published: 4th July 2017
Source article link: View
Related news