25th February 2019 Content supplied by: NG Biotech
NG-Test® CARBA 5: Detect and Characterise OXA-48-like, KPC, NDM, VIM & IMP in 15 minutes
NG-Test® CARBA 5 has been evaluated and validated worldwide on more than 2000 clinical samples. Numerous publications in prestigious peer-reviewed journals have already highlighted the excellent performance and the relevance of this assay.
In partnership with the CEA (French atomic energy commission) and the AP-HP (Paris Public Hospitals), NG Biotech (France) designs and manufactures innovative analysis solutions meeting the needs of rapidity, simplicity, performance, and simultaneous detection of various biomarkers to better tackle antimicrobial resistance which is a global public health threat.
NG Biotech's star product, NG-Test® CARBA 5, is used to detect and characterise the five main carbapenemases (OXA-48-like, KPC, NDM, VIM and IMP), which are the molecules secreted by the bacteria inhibiting the action of the carbapenem class of antibiotics, considered as last resort drugs.
"This assay is already fighting against antimicrobial resistance in over 50 countries."
NG-Test® CARBA 5 is a unique multiplex test which provides results in 5 to 15 minutes from bacteria culture or directly from positive blood culture using the NG-Test® Blood Culture Prep kit.
For more information about NG Biotech's antimicrobial resistance rapid tests range
Product highlights:
Rapid:
Results in 5 to 15 minutes
From bacterial culture or positive blood culture
Minimal hands on time
Accurate:
Excellent correlation with PCR
Numerous published studies available
User friendly & multiplex:
Single test to detect the 5 main carbapenemases
No equipment needed
Minimal training needs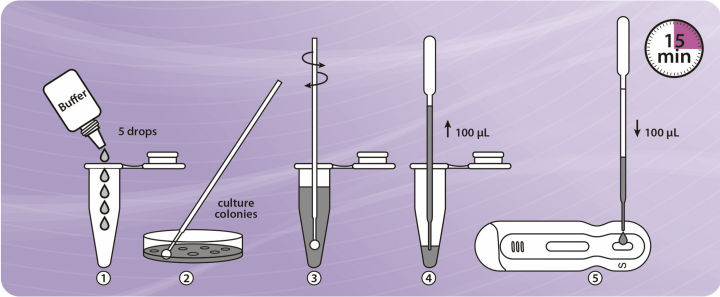 Please note : Any products described on this page are for Research Use Only and not intended for clinical diagnostic procedures unless otherwise stated.
Tags:
Date Published: 25th February 2019
Source article link: View
Related news