21st November 2017 Content supplied by: Astell
New Video Tutorials for Astell's Touchscreen Controller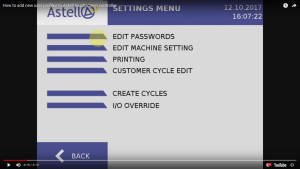 Astell Scientific now have a new section of its website dedicated to hosting video. The first area of focus is that of Astell's advanced colour touchscreen controller, with a selection of seventeen video tutorials available to explain common functions and setting adjustments, making it easy for owners of Astell sterilizers to find the perfect setup. Each clip provides a walk-through of steps to demonstrate actions such as adding or removing a user profile, changing a password, editing a cycle or changing time, date or language.
The colour touchscreen controller has been developed by Astell for the precision control of all its autoclaves and sterilizers and is fitted as standard across the range. It consists of a wipe clean touchscreen measuring 5.7 inches, combined with a number of analogue and digital input/output modules, a simple icon driven menu system and an archive for storing data on up to 5,000 previously run cycles.
In future, Astell plans to add to the video content it offers by including product and case study overviews, autoclave maintenance guidance and new controller features as they become available.
To view the new videos or for more information on Astell sterilizers please visit www.astell.com
Tags:
Date Published: 21st November 2017
Source article link: View
Related news