10th December 2012 Content supplied by:
New MRS Agar (ISO) Extends Lab M's Range for Lactic Acid Bacteria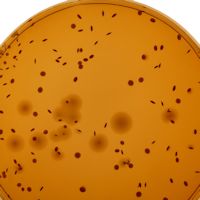 With the international standards organisation playing an increasing role in food safety and testing, more food and beverage testing laboratories are looking to use ISO-specified microbiological culture media, safe in the knowledge that these meet strict formulation requirements and have undergone rigorous testing by the manufacturer. Lab M has a wide portfolio of ISO compliant media and has now added new MRS Agar (ISO) to its range for the cultivation of lactic acid bacteria. This medium is used primarily in the food, beverage and dairy industries and Lab M's MRS Agar (ISO) is one of only two dehydrated formulations that fully meet the requirements of ISO 15214, a method for the enumeration of mesophilic lactic acid bacteria in foodstuffs.
The Gram-positive, non-spore forming cocci, bacilli and coccobacilli, collectively known as lactic acid bacteria, are among the most important micro-organisms associated with food fermentation. Not only do they help shape the taste and texture of many fermented products, the growth inhibitors and large amounts of lactic acid they produce help prevent spoilage by other organisms. In their role as fermentation agents they are clearly prized, but some species cause spoilage themselves. Consequently, culture, monitoring and control are critically important.
For details of this and Lab M's extensive range of ISO media, visit www.labm.com
Date Published: 10th December 2012