4th January 2019 Content supplied by: ViroStat Inc.
New Aspergillus Monoclonal Antibody for Use in Immunoassays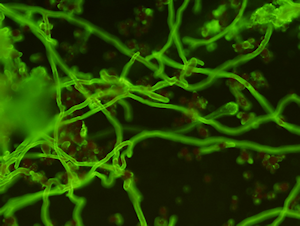 Aspergillus is a genus of aerobic fungi found widespread in the environment including air, water and food (think bread mold). They are harmless to those with healthy immune systems but can infect patients undergoing transplantation or chemotherapy and lead to disseminated disease (aspergillosis). If not controlled, fungal cells can infect major organs including lungs, heart and kidneys. Aspergillus fumigatus is the most frequently identified pathogen.
ViroStat has released a new Rabbit Monoclonal Antibody to Aspergillus species. This new antibody recognizes numerous Aspergillus species and is reactive with all strains of Aspergillus fumigatus tested. It functions well in IFA, IHC and self-pairs in ELISA. Potential applications include rapid antigen detection systems such as ELISA and lateral flow immunoassay.
This new antibody joins a unique collection of existing Rabbit Monoclonal Antibodies to Candida albicans, Strep A, Strep B, Strep pneumoniae and Legionella from ViroStat.
Download data sheets for these antibodies at www.virostat-inc.com.
Please note : Any products described on this page are for Research Use Only and not intended for clinical diagnostic procedures unless otherwise stated.
Tags:
Date Published: 4th January 2019
Source article link: View