1st October 2015 Content supplied by: Momentum Bioscience
Momentum Bioscience's New R&D Facility Opened by David Cameron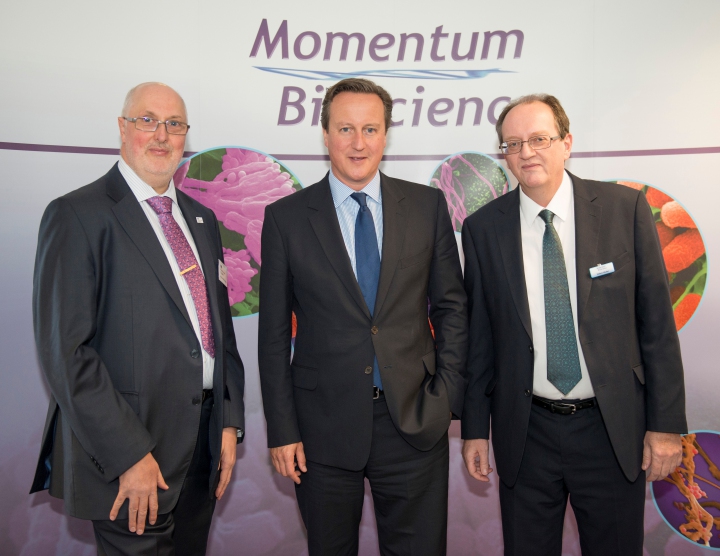 Momentum Bioscience Ltd recently hosted a visit by David Cameron, MP for Witney and UK Prime Minister at its facility in Long Hanborough, Oxfordshire. Mr Cameron unveiled a commemorative plaque, toured the new research and development laboratories and discussed the company's innovative products and future plans.
Joining the visit was Momentum's research collaborator, Professor Neil Woodford, Head of the Antimicrobial Resistance and Healthcare Associated Infections (AMRHAI) reference unit at Public Health England and advisor to the Prime Minister's O'Neill review. Professor Woodford discussed with Mr Cameron how new diagnostic tools help in reducing antibiotic use and resistance.
Mr Cameron concluded his visit by addressing the directors, management and employees of Momentum. He said 'Momentum Bioscience is a good example of innovation and research in West Oxfordshire and I am pleased to see how the company has benefited from government backed investment funding and grant support. He added 'The fight against antibiotic resistance and the overuse of antibiotics is a high priority for the government and Momentum's innovative technology and diagnostic products can make a valuable contribution in this area'.
Dr William Mullen, CEO said 'We are very pleased that Mr Cameron was able to visit Momentum and see our progress as a growing company. His interest in the issues of antibiotic use and resistance is clear and we value his support as our local MP'.
Momentum's first product is the CE marked Cognitor® Minus which uses Enzymatic Template Generation & Amplification (ETGA®) technology  a novel technology that detects viable organisms using a unique combination of a phenotypic marker and ultra-sensitive molecular PCR measurement, delivering rapid reporting of negative blood specimens from patients suspected of sepsis, allowing early cessation of unnecessary antibiotics.
This product is currently not available in USA.
Please note : Any products described on this page are for Research Use Only and not intended for clinical diagnostic procedures unless otherwise stated.
Tags:
Date Published: 1st October 2015
Source article link: View