3rd June 2020 Content supplied by: Logos Biosystems, Inc.
Logos Biosystems LUNA-FX7™ Automated Cell Counter - Greater Accuracy and Higher Throughputs
Logos Biosystems, a leading provider of innovative life science research tools, has launched the LUNA-FX7™, the newest and most advanced member of the LUNA™ Cell Counter Family.
The LUNA-FX7™ combines accuracy, speed, flexibility with the ease of use that is a trademark of all the LUNA™ counters. With the ability to utilize single, 3- and 8-chamber slides in addition to the standard two-chamber slides, the LUNA-FX7™ meets a broad range of counting applications from confirming cell quantities for single-cell sequencing to highly accurate cell therapy dose.
The LUNA-FX7™ offers the following key benefits:
Dual fluorescence and bright field cell counting with improved optics and upgraded software.
Higher throughput using either 8- or 3- channel slides.
Larger counting volumes, up to 5.1 µL in single-channel slide, to increase accuracy and precision.
Bioprocess package that can monitor individual and specific batches.
Quality Control functions with new validation slides.
Innovative CountWire™ package for 21 CFR Part 11 compliance.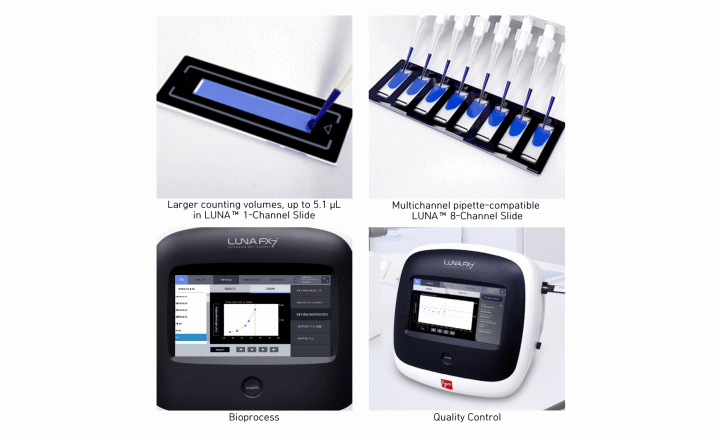 According to the CEO of the company, Dr. Neon Jung, "We constantly strive to improve our customers' ability to conduct science. With this ethos in mind, we upgraded and incorporated the most advanced technology into the LUNA-FX7™ to produce an automated cell counter that can serve the spectrum of cell counting needs from research labs to production facilities. At Logos, we believe that better counts produce better science. The LUNA-FX7™ is our latest example of this conviction."
For more information about the LUNA-FX7™, please click the green "Request Information" button below.
Tags:
Date Published: 3rd June 2020
Source article link: View