15th May 2012 Content supplied by:
Lab M's Captivate™ Accelerates Isolation of Important Strains of E .coli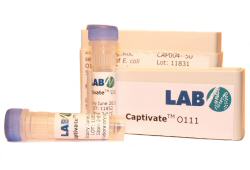 Lab M is adding to its range of Captivate™ antibody coated paramagnetic particles for the specific immunomagnetic separation (IMS) of micro-organisms.
The range currently encompasses products for E. coli O103, E. coli O111, E. coli O145, E. coli O157:H7, E. coli O26, and common serotypes of Salmonella. It is being extended to also include E. coli strains O121, O45, O91.
This extended range will cover all 'The Big Six' strains of non-O157 Shiga-toxin producing E. coli (STECs) now highlighted by the United States Department of Agriculture (USDA) as unacceptable in raw beef products: E.coli strains O26, O103, O45, O111, O121 and O145.
Captivate™ accelerates the isolation of micro-organisms, primarily from food and environmental samples. Captivate™ particles consist of a magnetite core enveloped by a ceramic zirconium oxide coating, to which carefully selected and purified antibodies to surface components of the target micro-organism are covalently coupled.
When mixed and incubated with a sample suspension, the antibody-coated beads 'capture' the target bacteria by forming an antibody-antigen complex. These complexes are separated from any background organisms or interfering materials using a magnetic concentrator. The beads can then be plated to the appropriate selective media or used in other analyses following a straightforward wash procedure.
IMS increases the sensitivity of the isolation methodology and in most circumstances results are achieved 24 hours earlier than using standard protocols. As well as the ready-made Captivate™ range, Lab M provides a custom coating service and Captivate™ can also serve as a capture system for rapid detection systems.
For information visit: www.labm.com
Tags:
Date Published: 15th May 2012
Related news