27th July 2015 Content supplied by:
Introducing the New BAX® System X5. Fast, Accurate, Easy to Use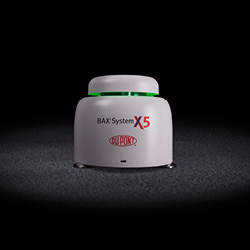 Hygiena has acquired DuPont Diagnostics, the global food safety diagnostics business of DuPont. Including the BAX® System, RiboPrinter® System, Lateral Flow System, StatMedia™ and Dehydrated Culture Media. Visit
www.hygiena.com/bax.html
DuPont Diagnostics, a DuPont Nutrition & Health business, introduces the DuPont™ BAX® System X5, a new PCR-based testing platform and the newest addition to the award-winning BAX® System family. The BAX® System X5 instrument and associated accessories, including the automated DuPont™ Thermal Block for sample preparation, offer the same fast, accurate and easy-to-use pathogen detection solution that customers have come to expect from the BAX® System method, but in a smaller lightweight construction to provide greater testing flexibility.
"Our goal in developing the BAX® System X5 platform is to bring the advanced, genetics-based PCR technology of the BAX® System method to customers who may not have a need for the full 96-sample capacity of the BAX® System Q7 instrument," said Alain Minelli, DuPont Diagnostics marketing manager. "Now food companies, contract testing laboratories and government agencies can use the BAX® System X5 to perform reliable, accurate pathogen testing in a way that best suits their testing volume, laboratory space and financial requirements."
Initially the BAX® System X5 platform will be available for testing a variety of food and environmental samples for Salmonella, E. coli O157:H7, Listeria species and L. monocytogenes. These BAX® System X5 PCR assays will provide next-day results for most sample types after a standard enrichment and about 3.5 hours of automated processing in the BAX® System X5 instrument. Further development is under way to expand the new platform to include additional PCR assays.
For 20 years, food companies around the world have relied on the award-winning DuPont™ BAX® System for accurate, reliable pathogen detection. As part of your quality control system, the automated DNA-based test provides rapid results to help you make product release decisions with confidence, protecting your company and your brand.
Tags:
Date Published: 27th July 2015
Related news