25th July 2016 Content supplied by: INTERSCIENCE
Instantly Analyze Your Petri Dishes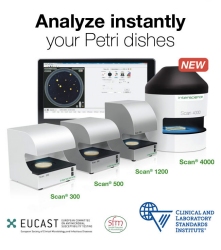 Scan® automatic colony counters and inhibition zone readers deliver high resolution color reading of colonies and inhibition zones. Adapted to all sizes of Petri dishes and all media, their lighting system guarantees a great user comfort, high accuracy and excellent reproducibility.
If you count at least 50 Petri dishes per day, with the Scan® you can reduce the reading time by up to 80 % as it counts up to 1000 colonies in 1 second!
The manual counting of colonies on Petri dishes is long and painstaking and may vary in the beginning and the end of a single day, according to the operator. The Scan® counts with up to 98 % accuracy in a constant and repeatable way.
Scan® offers multiple ways of data export to save time and increase the security and the quality of the analyses. Usually, after counting the dishes are thrown away and checking is thus not possible in case of a disagreement. With Scan®, if you have any doubts, you still have the pdf and the photo of the dish before/after counting to check again the result and hand it to your customer or supervisor.
See the Scan® range of automated colony counters at IAFP Booth #830
Tags:
Date Published: 25th July 2016
Source article link: View