14th March 2023 Content supplied by: Diamidex
Improving Legionella pneumophila Detection: A Case for Workflow Optimization
As the importance of water quality monitoring continues to grow, so does the need for fast and robust detection methods to detect waterborne pathogens such as Legionella pneumophila. 
Traditional culture-based methods are, unfortunately still very slow and with heavy and time-consuming protocols. This leads to late results and therefore an increased risk of disease transmission to the population. 
MICA Legionella Diamidex solution offers a fast and accurate alternative for the detection and enumeration of Legionella pneumophila. Thanks to its advanced imaging and analysis software, the device provides results in 48 hours and in CFU, compared to about ten days for ISO 11731. 
AN OPTIMIZED WORKFLOW
But speed is not the only advantage of the MICA
Legionella
Microcolony Counter. 
In addition to its rapid detection capabilities, MICA Legionella offers a significant time-saving advantage for laboratory technicians. By automating much of the Legionella detection process, the device reduces the need for manual intervention and manipulation, optimizing the time spent by technicians. This results in improved accuracy and reliability of results.  
Its user-friendly interface makes it a valuable tool for laboratories of all sizes. By optimizing workflow and minimizing manual intervention, the instrument reduces the potential for error and variability. 
The counter also automates the export of results data. A report per test in pdf format as well as a compilation of the raw data in a file including all the data, ensures the relevance and continuity of the results. 
Moreover, per sample, you only need 1 GVPC Plate with MICA Legionella compared to 6 on average with the ISO 11731. In total, the technician's time is estimated to be divided by 3 using MICA Legionella.  
All these features result in significant cost savings for laboratories.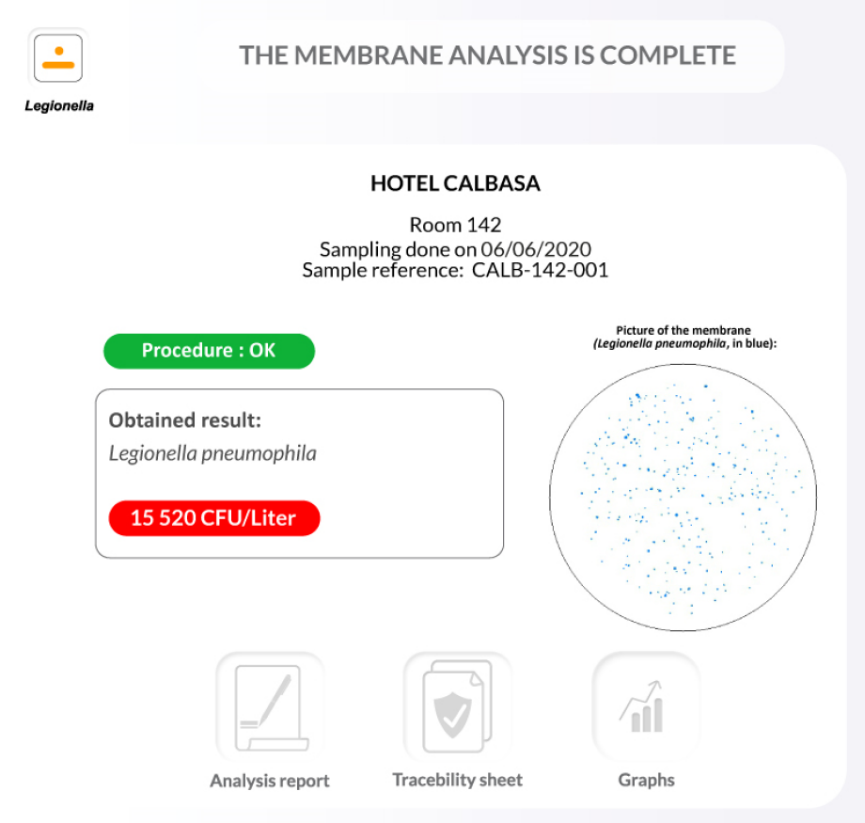 COMPARISON WITH ISO 11731
Certified by the AOAC since 2022 as giving results "equivalent or better than ISO 11731", the MICA Legionella microcolony counter is very sensitive and specific, with reliable detection even at low concentrations. The instrument offers an unparalleled level of accuracy and precision. 
More recently, MICA Legionella has been evaluated by the Water Test Network project at the initiative of the European Union. "The results showed that the product MICA Legionella from the company DIAMIDEX works very reliably for the detection of Legionella pneumophila. In the natural sanitary samples analyzed at TZW within seven months, there was a very good percentage of accordance between MICA Legionella and ISO-method 11731 (accordance of > 96%). Reaching such good accordance after a short incubation time of 48 h is very good progress and allows good surveillance for health-relevant waters. The instruments and the procedures are very robust and avoid human errors. The user guide is very convenient for the laboratory personnel." 
Laboratories can improve their workflow, reduce costs and improve the accuracy and reliability of their results. Whether in healthcare, hospitality, or other industries with water quality monitoring needs, the MICA Legionella Microcolony Counter is a valuable tool for improving Legionella pneumophila detection and mitigating the risks associated with waterborne pathogens. 
EARLY ADOPTERS
Today MICA Legionella is routinely used by water companies, contract laboratories, facilities companies, and end-users in various countries like France, Switzerland, and Israel and is under final evaluation in many more countries all around the world. 
Visit Diamidex for more, or use the Request Information button to contact Diamidex directly.
Tags:
Date Published: 14th March 2023
Source article link: View