6th June 2017 Content supplied by: Micronic BV
How One Lab Ended Manual Capping and De-Capping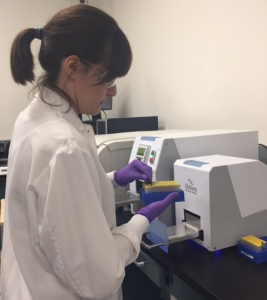 Bristol-Myers Squibb (BMS) uses Micronic TPE push caps and electric (de)capping equipment in their lab to make the handling of DNA samples more efficient and less time-consuming. Kelly Shahi, Automation Engineering Specialist at the Automation Research Department commented, "The Micronic automatic capping and decapping solution definitively saves us a lot of time and the headache from capping and decapping all the samples manually."
BMS has the mission to discover, develop and deliver innovative medicines that help patients to treat serious and life-threatening diseases, in areas such as oncology, cardiovascular disease, immunoscience and fibrosis. Through their Research & Development organization, BMS has built a sustainable pipeline of potential therapies.
Mrs Shahi works at the BMS R&D facility in Redwood City, California. The goal of this department is to discover biological medicine with a focus on antibodies. Mrs Shahi noted, "Our main research focus is on discovering and developing fully human antibody-based therapeutics to treat cancer and other life-threatening diseases. Several DNA samples come across the genotyping system in our automation lab for screening. As a result, I do end up storing a lot of samples." She added, "The samples are stored in case the researchers need to do further screenings down the road. I also go back to pull positive or negative controls for PCR."
To make the capping and decapping process less time consuming, the R&D department makes use of the Micronic Univo Electric Capper and Decapper. This equipment quickly caps and decaps their tubes with the Micronic TPE push caps. Mrs Shahi is very satisfied with the Micronic capping solution and would recommend it to other labs: "We just want to be able to handle and store our samples easily and effortlessly. The Micronic solution supports us in this. The capping equipment and TPE push caps have been super-efficient and easy to use, I use them as often as I can. The reliability of the equipment has been great with continuous usage. In addition, the contact with Micronic sales representatives and customer service is also very good."
The Electric Capper is compatible with the following push cap formats: TPE Capmats, Capbands, Capclusters and EVA Capmats. The Micronic Univo Electric Decapper DC480 enables significant productivity gains to be made in the opening of multiple sample storage tubes capped with push caps. The DC480 is able to decap 96 tubes in 8 seconds. Through a user friendly interface it is possible to choose the right rack to decap, without using different adapters.
Please note : Any products described on this page are for Research Use Only and not intended for clinical diagnostic procedures unless otherwise stated.
Tags:
Date Published: 6th June 2017
Source article link: View