7th February 2018 Content supplied by: BIOTECON Diagnostics GmbH
foodproof® Norovirus (GI, GII) Plus Hepatitis A Virus Detection Kit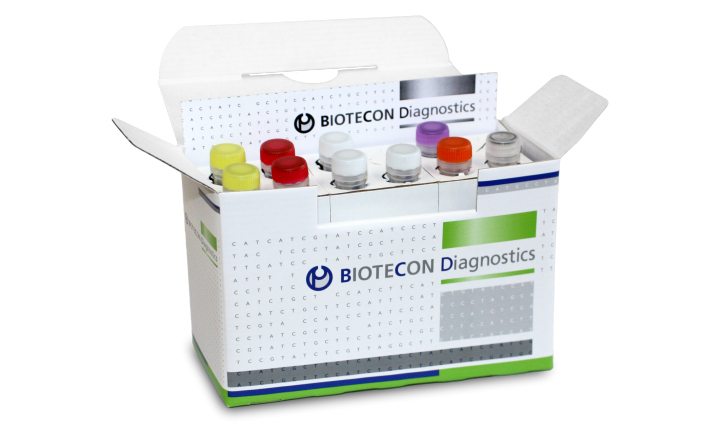 BIOTECON Diagnostics has launched a unique all-in-one multiplex real-time-RT-PCR-test for the detection of Hepatitis A virus and norovirus GI and GII in food and bottled water samples: foodproof® Norovirus (GI, GII) plus Hepatitis A Virus Detection kit. The test is designed for quality laboratories of food manufactures, analytical services and governmental laboratories.
Food- and waterborne outbreaks involving Hepatitis A virus and norovirus have been reported in many countries. Different foods have been commonly associated with these viruses, including berries, fruits (e.g. kiwi, pineapple), vegetables, seafood (e.g. oysters, mussels, shrimp, frozen tuna steaks) or minced meat. In addition, outbreaks of gastrointestinal illness caused by viruses in bottled water (e.g. in office water coolers) have occurred in some countries.
Noroviruses are considered to be the main agent for gastrointestinal diseases in humans worldwide. They are a group of +ss-RNA, non-enveloped viruses belonging to the Caliciviridae family. Capsid diameters vary widely, from 23 to 40 nm in diameter. Of the five known genogroups, GI and GII are the most prominent pathogens in humans. The most common infecting norovirus is genogroup II genotype 4 (GII.4). Serotypes, strains and isolates include Norwalk virus, Hawaii virus, Mexico virus etc. Typical symptoms of norovirus infection can appear after one or two days.
The Hepatitis A virus can cause liver infection and is highly contagious. But many cases have few or no symptoms, especially in children. Hepatitis A virus is a species of virus in in the family Picornaviridae; it is not enveloped and contains a ss-RNA packaged in a protein shell. The human-relevant genotypes are numbered I-III. Infected individuals are infectious prior to onset of symptoms until roughly 10 days following infection.
With the new kit, a simultaneous, qualitative detection and differentiation of Hepatitis A virus, norovirus (from genogroups I & II) and a process control, bacteriophage MS2, is possible based on the criteria of ISO 15216. The kit also includes a solution of the bacteriophage MS2 which can be added to the sample and is treated like the sample. A specific sequence of the process control is later detected in each sample. Recovery rates of at least 1%-10% are obtained.
The bacteriophage MS2 is an icosahedral, +-ss-RNA virus that infects the bacterium Escherichia coli and other members of the Enterobacteriaceae family. Due to its structural similarity to noroviruses and non-pathogenicity to humans, it is used as substitute for noroviruses & Hepatitis A virus in the BIOTECON kit as the process control.
No enrichment of the food samples takes place in the standard ISO protocols; rather, matrix-specific virus concentration protocols are provided.
In addition, BIOTECON provides one RNA-extraction kit for all kind of tasks: the foodproof® Sample Preparation kit IV. It is suitable for manual extraction or semi-automated extraction of 24 samples in parallel with a vacuum manifold. After virus concentration and RNA extraction, the RNA is tested with the foodproof® Norovirus (GI, GII) plus Hepatitis A Virus Detection Kit. The analysis shows if Hepatitis A virus or norovirus specific sequences were amplified and if recovery rates for the process control of higher than 1% were achieved, thereby validating the detection results.
The new kit has been tested and validated with all relevant food groups as well as bottled water. Customers benefit from receiving four answers with one real-time-RT-PCR assay as well as the included process control being measured with each sample.
Tags:
Date Published: 7th February 2018