2nd February 2017 Content supplied by: Copan Diagnostics, Inc.
Flu Season Still to Reach Peak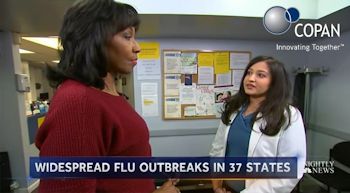 If you thought we'd escape with a mild flu season, think again. As of January 31st, there have been over 25,000 influenza cases across the US. The CDC reports that we're reaching epidemic levels for flu in some parts of the US, and doctors are saying the peak is yet to come. COPAN's flocked swabs (FLOQSwabs™) and Universal Transport Medium (UTM™) are preferred methods of collection, transport, preservation for helping diagnose the flu.
Influenza can be troublesome to pinpoint because the symptoms vary from patient to patient and resemble other diseases. In order to determine the proper course of action, samples need to be collected and tested. Flocked Swabs are ideal as they have no internal core to trap the sample. The entire sample stays close to the surface for fast and complete elution. Once collected, the swab is placed into UTM™. UTM™ is a room temperature stable viral transport medium for collection, transport, maintenance and long term freeze storage of viruses.
With the help of UTM™ and flocked swabs, it is easy to determine if and what strain of the flu a patient may be suffering from. This year's most prevalent flu type is type A, specifically H3N2, a variant of the infamous swine flu or H1N1, which the current flu vaccine has proven to be a good match against.
Make sure you have enough stocks for when peak flu hits – order now!
Please note : Any products described on this page are for Research Use Only and not intended for clinical diagnostic procedures unless otherwise stated.
Tags:
Date Published: 2nd February 2017
Source article link: View
Related news