20th March 2017 Content supplied by: AppliTek
EZ-ATP® Determines Microbial Load in Water Meeting ASTM D4012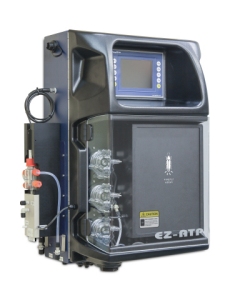 The EZ-ATP® On-line Microbiology Analyzer by AppliTek now uses highly sensitive Promega ATP Water Glo™ reagent to determine microbial pathogen load in water through measurement of  ATP. 
The EZ-ATP® is the first on-line system able to measure and report  ATP levels according to the well-established ASTM D4012 standard for reporting live bacteria. Other analysis methods used today can take days to report a result and can miss over 90% of the total microbial population. The EZ-ATP® using Promega reagents can detect as little as 50 femtograms/ml ATP in 15 minutes saving time and labor compared to grab sampling and analysis. The partnership leverages the strengths of AppliTek as a leading-edge provider of analytical technology and Promega as the industry's leading manufacturer of reagents.
"Combining these two capabilities allows customers to apply state-of-the-art technologies to critical real-world settings to establish improved efficiencies that may lead to enhanced control and lower operational costs," said David Laurier, CEO and Vice Chairman of the Board at AppliTek.
Automated monitoring of microbial contaminants in water sources has established new interest in the use of ATP bioluminescence, especially in the areas of drinking water safety and homeland security, but also for any industrial process where microbiological water quality is critical such as power plant cooling water or sea water desalinization. In all of these environments, corrective actions depend on timely and sensitive data. AppliTek's EZ-ATP, working in conjunction with Promega reagents, can test every 15 minutes with one bottle of reagent lasting for up to 25 continuous days, offering a low cost of analysis and minimal reagent replacement relative to a large number of results.
Featured and Benefits include:
No bias from growth medium
Automated calibration and cleaning
Low LOD: 0.05pg/ml (0.1pM) ATP
Low maintainence plus easy to replace reagent kit
Applications include: Drinking water, bottled water, raw intake, data centre HVAC, RO determination, desalination plus the oil and gas industry.
The system is available for immediate sale. Watch the YouTube video or visit www.applitek.com/products/ez-atp 
Tags:
Date Published: 20th March 2017
Source article link: http://www.applitek.com/news/promega-corporation-applitek-teaming-offer-advanced-technology-microbial-pathogen-monitoring-process-water-drinking-water-sources
Related news