18th November 2019 Content supplied by: Hardy Diagnostics
Detect and Differentiate KPC, OXA-48-like, VIM, IMP, and NDM Carbapenemases in 15 Minutes!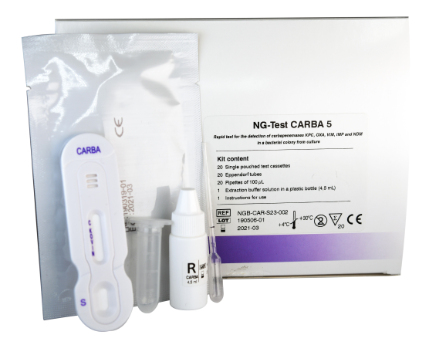 Hardy Diagnostics, an FDA- licensed and ISO-certified biomedical manufacturer has formed a partnership with NG Biotech in France.
Hardy Diagnostics is now the United States' authorized distributor of NG Biotech's NG-Test® CARBA 5, a rapid (15 minute) multiplex immunoassay for the detection and differentiation of the five most common carbapenemases from a bacterial culture of Enterobacterales and Pseudomonas aeruginosa. This easy-to-use test has proven to save microbiologists time by simplifying the process of testing for these resistance enzymes. It enhances the sensitivity, decreases turnaround time, lowers the overall cost per test, and represents a vast process-efficiency improvement over molecular methods.
You can learn more about this revolutionary rapid test on Hardy Diagnostics website, including the IFU, videos, and scientific studies.
Please note : Any products described on this page are for Research Use Only and not intended for clinical diagnostic procedures unless otherwise stated.
Tags:
Date Published: 18th November 2019
Source article link: View