16th November 2013 Content supplied by:
Specialist Brucella Diagnostic Reagents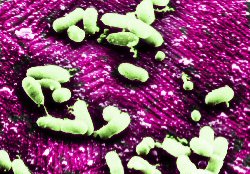 AHVLA has over 100 years of experience in the diagnosis and control of diseases of farm livestock and other animals. AHVLA Scientific offer an extensive range of high quality biological diagnostic reagents and kits to veterinary diagnostic laboratories worldwide for effective and reliable laboratory testing. Within the range are specialist reagents for the diagnosis of Brucellosis.
Brucellosis is one of the most important zoonoses affecting human health and animal welfare globally. The quality and reliability of Brucella diagnostics is crucial in the effort to control this disease. At AHVLA Scientific we produce an extensive range of high quality, standardised veterinary diagnostic reagents and kits for Brucella diagnosis. Our expertise has developed through our pioneering work in Brucella diagnosis and control, and as one of the few OIE World Reference Laboratories for Brucellosis.
Our products include:
Indirect ELISA kits for the detection of circulating antibodies to various species of Brucella in serum or milk
Competitive ELISA kits for the detection of circulating antibodies in the serum of all animals.
Stained antigens for Rose Bengal, Serum Agglutination, Milk Ring and Complement Fixation tests.
Positive and negative control sera for monitoring diagnostic tests calibrated against OIE international reference standards.
To discuss your requirements please contact our Customer Services Team Tel: +44 (0)1932 357641 Fax: +44 (0)1932 357701 Email: salesdesk@ahvla.gsi.gov.uk
Tags:
Date Published: 16th November 2013