5th May 2015 Content supplied by: Prior Scientific Instruments Ltd.
Broad Spectrum LED Illumination for Fluorescence Microscopy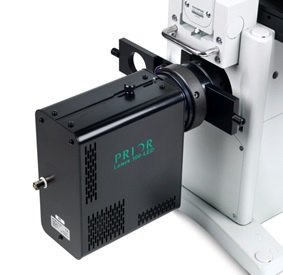 The new Lumen 300-LED is the latest addition to Prior's wide range of illumination products for microscopy. The unit is specifically designed to offer broad spectrum LED white light illumination for fluorescence applications. Fitting directly to most microscopes, the system is simple to install and use. Controlled by a manual keypad controller, the Lumen 300-LED offers instant on/off operation via TTL, manual 0-100% intensity control in 1% increments and on/off control for each LED. Alternatively, a liquid light guide Lumen 300-LED is available where there is a need to keep the illumination source remote from the microscope. Providing 25,000+ hours of bulb life, the Lumen 300-LED is an environmentally friendly (mercury-free) illumination system that requires no special disposal regulations.
Prior recommends that excitation filters are used with the Lumen 300-LED. Most existing filter sets will be compatible. Commercially available filters and filter sets can be purchased from Chroma, Omega and Semrock.
An application note is available that demonstrates how the Lumen-300 allows microscope users to combine single and multi-band testing to obtains superior results.
Please note : Any products described on this page are for Research Use Only and not intended for clinical diagnostic procedures unless otherwise stated.
Tags:
Date Published: 5th May 2015
Source article link: View