21st November 2017 Content supplied by: British In Vitro Diagnostics Association (BIVDA)
BIVDA Calls for Funding to Implement Rapid Diagnostics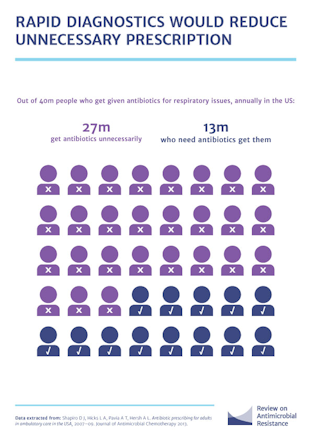 The British In Vitro Diagnostics Association (BIVDA) has launched its In Vitro Diagnostics (IVD) industry Antimicrobial Resistance (AMR) Declaration.
It's been more than a year since the O'Neill Review on AMR published its final report which included a recommendation on: "Promoting new, rapid diagnostics to reduce unnecessary use of antimicrobials".
To help drive the momentum behind this recommendation, BIVDA and its members have produced an AMR Declaration, outlining the action industry will take and the commitments we need to see from the Government.
One of the recommendations calls on the Government to "Designate funding for the implementation of rapid diagnostics".
The Declaration, was launched to coincide with World Antibiotics Awareness Week, 13-19 November, and has been signed by a wide range of BIVDA companies.
Commenting on the Declaration, BIVDA's Chief Executive Doris-Ann Williams MBE said: "With Brexit on the horizon, it's easy for issues such as AMR to slip down the list of the priorities. However, with the consequences of AMR already being felt, we cannot afford for this to happen.
"I hope that all decision makers in this area will work with BIVDA to ensure that we can take advantage of the benefits IVDs can deliver in overcoming AMR".
The Declaration can be downloaded here.
Please note : Any products described on this page are for Research Use Only and not intended for clinical diagnostic procedures unless otherwise stated.
Tags:
Date Published: 21st November 2017
Source article link: View
Related news