17th April 2018 Content supplied by: ELITechGroup
Automating the Diagnosis of Urogenital Mycoplasma Infections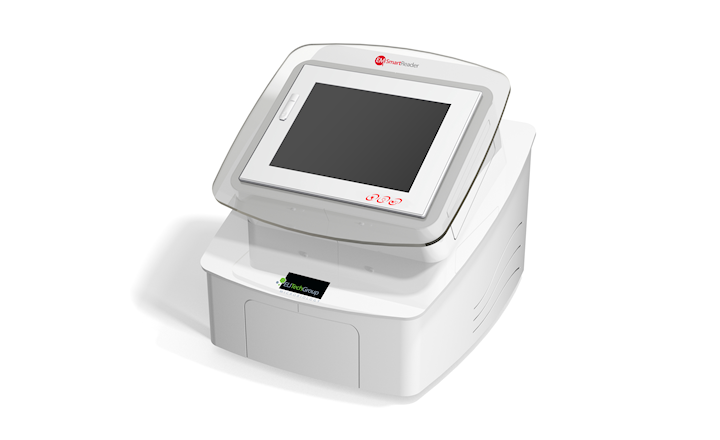 Over the last 20 years, ELITechGroup Microbiology has built a solid reputation in providing manual tests for clinical laboratories in the fields of urogenital mycoplasma (Mycofast®), fungi and parasites diagnosis. By launching its new EM Smart-Reader, ELITech Microbio took up the challenge of automation in order to answer the modern needs of laboratories in terms of Standardization and Quality Control management.
At launch time, the EM Smart-Reader will be available for the Mycofast® line of products, and will be extended to other tests in the near future.
Much more than a simple reader, this instrument will guide users step-by-step during the tests, by informing them about the exact status of each tested specimen, such as the time from the beginning of incubation, the next task to run, or also the need to confirm the interpretation profile in equivocal situations.
An intuitive and clear graphic user interface piloted with a touch screen will guide the user during routine daily work and, on demand, will interface with the Laboratory Information System (LIS). It can also be used as an autonomous instrument which will generate complete result reports that are easily exportable in pdf format via the USB port.
In Parallel, ELITechGroup Microbiology is also reinforcing its expertise in the diagnosis of urogenital mycoplasma by updating its world-leading Mycofast® line.
The Mycofast RevolutioN ATB+ is expanding the scope of treatment options with a large panel of tested antibiotics. And the New Mycofast RevolutioN 2 is specially formulated to manage samples collected in Liquid-Amies transport medium (e.g. E-swab™, Σ-Transwab™); it's also coming with specific growth media for testing the individual resistance profile of mycoplasma strains in co-infection situations.
Please note : Any products described on this page are for Research Use Only and not intended for clinical diagnostic procedures unless otherwise stated.
Tags:
Date Published: 17th April 2018
Source article link: View