9th January 2019 Content supplied by: Astell
Astell Introduces Closed Door Drying Benchtop Autoclaves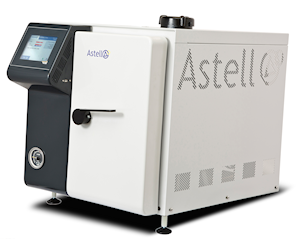 Astell Scientific has launched a new range of medium capacity benchtop autoclaves which feature a closed door drying function and chamber accessories suitable for sterilising wrapped and unwrapped instruments of the kind typically used in veterinary hospitals, regional care centres and large dental clinics.
Available in three sizes of 33, 43 and 63 litres, each unit is supplied with a PED/ASME approved stainless steel chamber, two wire shelves and one pouch rack. Using the intuitive 5.7" colour touchscreen controller, users can select from four pre-programmed cycles suitable for solid metal instruments (unwrapped), solid metal instruments (wrapped), glassware (unwrapped), and hand pieces in surgical pouches.
At the end of each cycle the controller automatically instigates load drying – where filtered air is circulated through the chamber by an efficient air pump, rapidly evaporating moisture within the load to leave the contents condensate free.
The Closed Door Drying range is compliant to the following standards and directives:
BS EN 13060:2014; ISO 9001:2015; PED 2014/68/EU; ANSI/AAMI ST55:2010 standard; FDA 510(k) approved; and manufactured to the principles of Medical Devices Directive (93/42/EEC).
Every unit in the Closed Door Drying range features 'Ecofill' – an integral water recirculation reservoir. Ecofill will supply the water for up to 15 sterilisation cycles, whilst also acting as a collection vessel for condensate and exhaust water that is automatically returned from the chamber at the end of each cycle.
Autoclaves equipped with Ecofill are amongst the lowest power and water consuming sterilizers on the market.
For more information please visit www.astell.com
Please note : Any products described on this page are for Research Use Only and not intended for clinical diagnostic procedures unless otherwise stated.
Tags:
Date Published: 9th January 2019
Source article link: View
Related news