30th October 2012 Content supplied by:
AOAC-PTM Approval for 3M Tecra Listeria VIA for Environmental Testing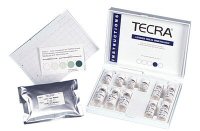 3M Food Safety have announced that its 3M™ Tecra™ Listeria Visual Immunoassay (VIA) for Environmental Testing (#091201) has received validation from the AOAC Research Institute's Performance Tested MethodsSM Program. This announcement comes mere weeks after a U.S.-based Listeria outbreak linked to imported ricotta cheese affected 12 states, and resulted in 15 hospitalizations and three deaths. The impact of foodborne pathogens such as Listeria make it increasingly important that food processing plants are able to monitor Listeria levels with consistent, frequent testing.
The newly AOAC-PTM validated 3M Tecra Listeria VIA allows food processors to monitor Listeria levels to identify hot spots within the plant and track progress. Using 3M™ Enviro Swabs or 3M™ Sponges, the sample is collected and enriched before being placed in the assay where the results are read and interpreted. Providing results in just 48 hours, the VIA assures confidence in product safety while offering flexibility in the testing process.
'The 3M Tecra Listeria VIA provides operation flexibility, further validating the diverse solutions 3M Food Safety is bringing to the marketplace,' said DeAnn Benesh, regulatory affairs specialist with 3M Food Safety. "This validation, coupled with recent 3M™ Molecular Detection Assay approvals, demonstrates 3M's commitment to quality and safe food."
The AOAC Research Institute bases certification of methods on independent study results demonstrating that a given method meets its product performance claims as expressed in the product package insert. For the 3M Tecra Listeria VIA PTM study, artificially contaminated surfaces were evaluated as compared to the appropriate U.S. Food and Drug Administration or U.S. Department of Agriculture Food Safety and Inspection Service reference method. 3M Enviro Swabs and 3M Sponges were used as collection devices in this study of select surfaces of stainless steel, plastic and concrete. No statistically significant differences were found in results between the 3M method and the reference methods.
For more information, visit www.3M.com/foodsafety/TecraLISENVAOAC
Tags:
Date Published: 30th October 2012
Related news