24th August 2015 Content supplied by: 3M Food Safety
3M Responds to Customer Feedback with Next-Generation Assays for Pathogen Detection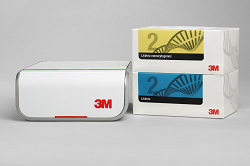 In response to on-going customer engagement, and with the goal of continuously innovating in order to better protect the world's food supply, 3M Food Safety recently unveiled the 3M™ Molecular Detection Assay 2 tests for Listeria and Listeria monocytogenes. The new test kits represent an expansion of the award-winning 3M™ Molecular Detection System portfolio – now delivering improved time-to-result and greater productivity.
What's changed? One aspect is the time required to perform testing. These 3M Molecular Detection Assay 2 tests provide faster enrichment time of 24 hours across a broad range of food types including dairy products, ready-to-eat and raw meats, seafood, fruits and vegetables. It uses a new lysis solution with 3M nanotechnology and liquid-phase chelating technology, replacing the resin used in the first generation lysis tubes. This enables the tests to deliver shortened enrichment times, and makes for a streamlined protocol with fewer steps that's 30% faster than the first generation assays.
After the 24 hours of enrichment, it only takes approximately 35 minutes to process up to 96 different samples and start the instrument run. Positive results are identified in as early as 15 minutes, so customers can start taking action in less than one hour after the enrichment. Negative results are identified at the end of the 75-minute instrument run. Total time to negative results, therefore, is less than two hours post-enrichment.
Another addition made to the next-generation assays involves color. The new assays include a color indicator that changes automatically, a specific request received from customer feedback. The unique color-change indicator provides customers with an additional process control to help them know when to proceed to the next step.
For customers using the original generation tests, 3M has made the transition to the next-generation tests as seamless as possible by using the same Demi Fraser Broth enrichment medium as in the first-generation tests. First and second generation assays can be run simultaneously on the same 3M™ Molecular Detection Instrument first introduced in 2011, allowing customers to transition at their own pace.
Change is essential to constant improvement, so we always welcome feedback on how the practice of food safety testing can be improved, in small or large measures. In the meantime, the 3M Molecular Detection Assay 2 Listeria and Listeria monocytogenes are currently available for customers in the United States and many countries around the world, and we invite individuals to contact their regional representatives with any input.
by John David, global marketing supervisor with 3M Food Safety. He can be reached at jmdavid@mmm.com or (651) 733-8920.
Tags:
Date Published: 24th August 2015
Source article link: View