Visit MWE at Medlab Middle East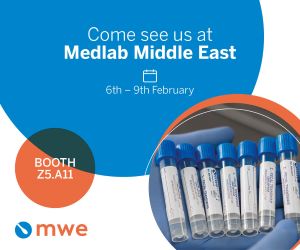 : 6 Feb 2023 - 9 Feb 2023
: Dubai, United Arab Emirates
Sector : Clinical
Type : Conference - In person
MWE manufactures a wide range of products, such as swabs and specimen collection media for the safe handling, collection, and transportation of viruses, bacteria, and other microorganisms. We are the only UK manufacturer of swabs. Our products are manufactured to International Standards and meet the CLSI-M40-A2 validation (for the quality control of microbiology specimen transport devices).
Visitors to Medlab Middle East 2023 can find MWE at booth Z5. A11
Find out more about MWE here, or use the green "Request Information" button below to ask for details.
Venue
Dubai
United Arab Emirates
Organizer