Dry Sample-ready Plates Are Ideal Alternative to RMMs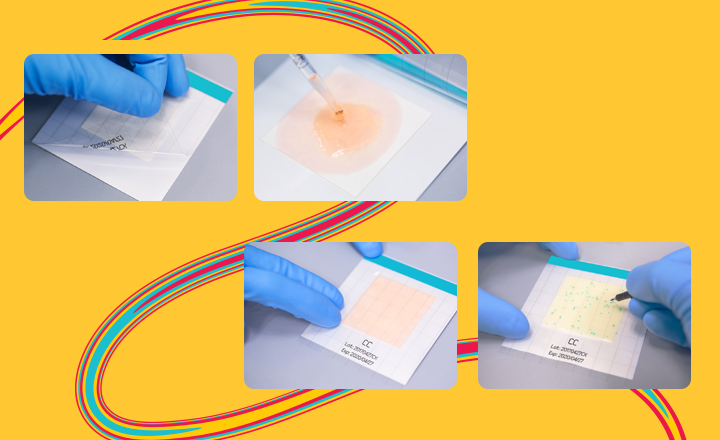 1
2
3
4
5
6
i
Introduction For the routine food and water microbiology lab Rapid Microbiological Methods (RMM) have been available for many years, normally RMM are considered to be non-culture based techniques such as immunoassays or molecular methods. If a lab is not yet using RMMs, most likely the available technologies do not meet all the labs needs. Experts in the food microbiology testing market, Strategic Consultants, Inc. (in their Industrial Microbiology Market Review, Fifth Edition (IMMR—5)) report that whilst the figure varies by world region, around 50% of global microbiological testing is still done on traditional media.
Why All Labs Don't Use RMMs for Everything 'Faster - Better - Easier' are the typical claims of RMMs, so why aren't all labs using them for all their tests? Whilst the time to result is definitely faster than traditional plating they do come with their own set of issues such as the need for initial capital equipment purchase which then also needs a maintenance contract, consumables will most likely have a higher cost per test, staff need to be trained to use the instrument, testing is dependent on the instrument working correctly and then end results can be difficult to confirm, if there is no colony on a plate for further work up. In addition, moving away from an awareness of the normal microflora of a product, as seen on a plate, distances the microbiologist from the product, so they're less likely to be alerted when something is not right. Some labs may choose to just run their key pathogen tests via a RMM technology and remain with plating for other 'less important' tests.
Plating Doesn't Have to Mean Media Prep Strategic Consultants have found that of all the food micro tests done on traditional media around 20% are via some sort of 'convenience' type ready-to-use product, either bought in plates or ready-to-hydrate format. Buying ready-made media in Petri dishes will eliminate in-house media prep but sample to end result is no faster and workflow is unchanged. However, by using dry sample ready style plates, both in-house and contract service providers can retain the advantages of a culture based approach whilst getting faster results and streamlining the lab workflow and that means better use of the lab budget.
These ready-to-go plates are presented sterile and contain a soluble substrate within a re-sealable thin disposable plate-like sheet - the sample to be tested is prepared as normal by homogenisation then an aliquot is added to the 'plate', the sample itself rehydrates the media, which can be either a selective chromogenic or non-selective media depending on the test being performed. The film lid is peeled back for sample addition and then re-sealed after inoculation.
They can then be stacked for incubation after which colonies are read either manually or by using an automated plate reader and results reported as a standard CFU per gram or ml of product. No result conversion is required so it's easy to check if it's within spec. Specially developed redox or enzymatic colour indicators in the media make any growing colonies quicker to visualise and so counts can be made earlier than with Petri dish testing. Colonies are also easily accessible for confirmation, although many of the selective tests are so specific virtually no confirmation is needed such as with combined E. coli/coliforms plates. For total aerobic counts, the dry culture media devices can cope with 200 to 300 colonies growing per plate, although high populations may result in coloration of the entire plate and make colonies difficult to read, if too many colonies grow an estimate can be obtained by counting just one square of the grid pattern and multiplied up to achieve the full CFU result.
Features and Benefits of Dry Film Plates include:
save material, capital equipment and labour costs of media preparation
no need to prepare, melt and pour agar at point of test
indicator dyes make colonies countable at earlier stage giving faster results e.g. 24 hours instead of 3 days or 48-72 hours instead of 5-7 days depending on type of test
highly specific chromogens give clear colony identification
reduce biohazard and plastic waste
long shelf life reduces wastage on out of date plates made in-house
less storage and incubator space needed
reduced variability and validation tests compared to in-house media, as sample ready plates are supplied with quality certificates
depending on test/product combination compliant to international standards and validations such as AOAC INTERNATIONAL, AFNOR, MicroVal, ISO and BAM
Applications Sample-ready testing plates are suitable for most environmental samples (such as air, swabs and surfaces), raw materials, in-process and finished product testing in processed food, dairy, meat, animal feed, pet food, beverage and water industries. They can also be used for membrane filtration testing by rehydrating the media with sterile water, placing the post-filtration membrane on top then incubating as normal.
Improved workflow means for the same budget, labs have extra capacity for a more proactive approach and can take on other tests that weren't possible before, such as extra environmental testing, shelf-life monitoring or more staff training.
Existing Small Lab or Setting up a New Microbiology Lab  For anyone wanting to start micro testing in-house, these are a good tool when setting up a new lab, whilst there is still a requirement for diluent, there is no need to invest in large scale media preparation and media QC processes. Smaller incubators can be purchased as the stacked film plates take up less space. Plus, any additional testing can be taken on as required - just purchase that test plate.
What are the Drawbacks? Some plating issues do still remain, if the sample has a high bacterial load then serial dilutions are still required. Spreading colonies such as Proteus spp. will still be an issue although the redox indicator in the media can help visualise the centre of individual colonies. As with any other chromogenic based test there can be the odd organism with unusual characteristics - for example on E. coli plates, glucuronidase negative E. coli such as E. coli O157 will not have a characteristic appearance. Very high or very low pH products will require an adjustment to neutral pH.
How to Choose a Supplier There are various manufacturers, 3M™ originally introduced 3M Petrifilm™ Plates in 1984 and since then more manufacturers have entered the market. Choosing a supplier that is right for you will depend on whether they provide the range of tests for your application and if it is validated for your product type.
Some manufacturers require plates to be stored at low temperature, such as 2 to 8oC for 3M Petrifilm Plates and which then need to be brought up to room temperature before use, whereas the Merck MC-Media Pads can be stored at 2 to 15oC and used straight from the fridge. Some products such as 3M's Petrifilm require a re-usable spreader whereas other rely on automatic sample diffusion. The Merck MC-Media Pads are colour coded so that the operator can easily identify the correct plate type to be used.
Get the latest updates in Rapid Microbiological Test Methods sent to your email? Subscribe to the free rapidmicrobiology eNewsletter
Latest News
Latest Featured Product
Supplier Information
-
Bacillus cereus
-

E.coli and Coliforms Combined




-
Listeria
-
Pseudomonas aeruginosa
-
Salmonella
-
Staphylococcus aureus
-
Vibrio parahaemolyticus
-

Aerobic Counts




-

Automated Reading of Dry Film Plates




-

Automated Set Up of Dry Film Plates




-

Coliforms




-

Enterobacteriaceae




-

Enterococcus




-

Lactic Acid Bacteria (LAB)




-

Water Testing




-

Yeast and Moulds