Automated Laboratory Media Preparation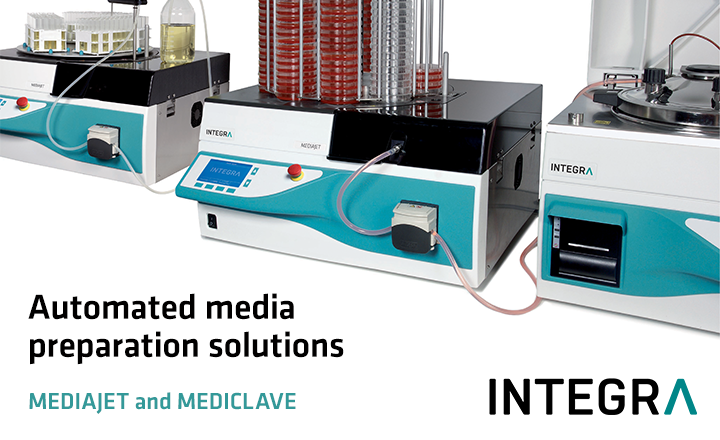 Key Characteristics
Automated media preparators will automatically prepare, sterilize and dispense liquid or solid culture media
can range from hand operated dispensing systems for smaller labs
to 'walk-away' systems for larger labs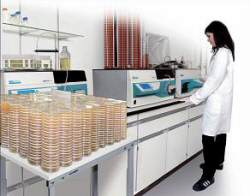 Why use automated media preparation?
In a busy laboratory, preparing and dispensing plated media or broths in tubes and bottles can be a time consuming process particularly when large sample numbers need to be processed.
Although reducing labour costs can provide a significant reason to implement an automated media preparation process, there are additional factors that need to be included: the cost of storage space and facilities if ready-to-use [RTU] media are considered [plus of course the purchase price]; manual media preparation can suffer from contamination problems.
An in-house automated media preparation system can also provide a virtual on-demand supply of media for those occassions when changes in normal laboratory workflow occur.
Instruments and Systems
At the most basic level, automation of media preparation might involve the reproducible transfer of liquid agar or broth to plates and tubes or bottles. There are semi-automated filling sytems that can achieve this for the smaller laboratory.
When large numbers of plates, tubes, vials, bottles etc. need to be produced then the whole process can be fully automated.
There are now high capacity fully automated media sterilisers and plate pourers, fillers and dispensers. Just put in dehydrated media; select the correct process procedure and wait for the pre-poured plates or tubes etc. to be produced. Or rather, you can go off and do something else as such systems are truly walk-away.
These fully automated systems are microprocessor controlled and can allow full control over the process parameters such as: sterlization temperature and time; pouring temperature etc.. Some systems are able to add thermolabile materials such as blood or selective agents at particular points in the process.
With some systems the whole operation can be monitored by computer - providing complete traceability for each batch: and plates etc. can be automatically bar coded with the relevent batch or lot number etc.
Not all laboratories require complete automation of the media preparation process. Almost all microbiology laboratories will have access to or already have an autoclave or sterilizer, if that is in place then all that many laboratories would require is an automatic dish stacker/pourer or a bottle/vial dispenser. In common with fully automated systems some of these can offer optional printers for plate identification etc. Other features might include accessories that can pour bi-plates.
There are occassions when non-standard plate design or completely different formats such as microtitre plates might need to be filled with agar, broths or other liquid. The solution for these applications can usually be solved with a robotic system which again can offer true "walk away" operation. Depending upon the accessories and the sample/assay in question available these can even automate the complete sample assay. This type of sytem is commonly found in clinical applications and is usually an integrated sample assay instrument and not referred to as a robot.
What are the benefits?
Walk away capability significantly reduces labour costs
More consistency and uniform volumes independent of operator
Fully monitored processing allows easier conformance to GLP
Reduced storage space and facilities costs
Enhanced safety for laboratory personnel - no hot agar/broths to carry around
Reduced 'out of stock' situations compared to ready to use media
How to Choose a Media Preparator/Filler for Your Microbiology Lab - find out what questions to ask a vendor.
Get the latest updates in Rapid Microbiological Test Methods sent to your email? Subscribe to the free rapidmicrobiology eNewsletter
Latest News
Latest Featured Product
Supplier Information