Water SARS-CoV-2 RT-PCR Test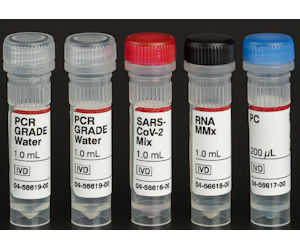 Water SARS-CoV-2 RT-PCR Test
Principle: RT-qPCR detecting approximately 1 gene copy/1 ml wastewater
Automation: No
Suitability: Detection of SARS-CoV-2 in wastewater
Capital equipment required: Yes
Description:
The Water SARS-CoV-2 RT-PCR Test is a real-time reverse transcription polymerase chain reaction (RT-qPCR) test that detects and quantifies viral RNA in an appropriately prepared wastewater concentrate sample. When used with the 105 ml concentration protocol, the lowest concentration of SARS-CoV-2 in wastewater that can be detected by the Water SARS-CoV-2 RT-PCR Test is approximately 1 gene copy/1 ml.
Key Points:
Validated
Validated protocol by manufacturer of market-leading wastewater tests, including the Colilert-18®/Quanti-Tray® method
Built-in protocol flexibility for a highly dynamic matrix
Validation on common RT-qPCR instruments
WRF Study confirms repeatability and consistency of detection. Click here for full study.
Consistent
Highly sensitive RT-qPCR test, with detection of the N1 and N2 regions of the virus
Comprehensive quality-control protocols to ensure consistent results
Available
A history of an excellent supply chain: IDEXX Water has greater than 99.9% availability for key products
Sterile and consistent manufacturing facilities, compliant with ISO and GMP standards
Technical support staff with decades of experience in wastewater